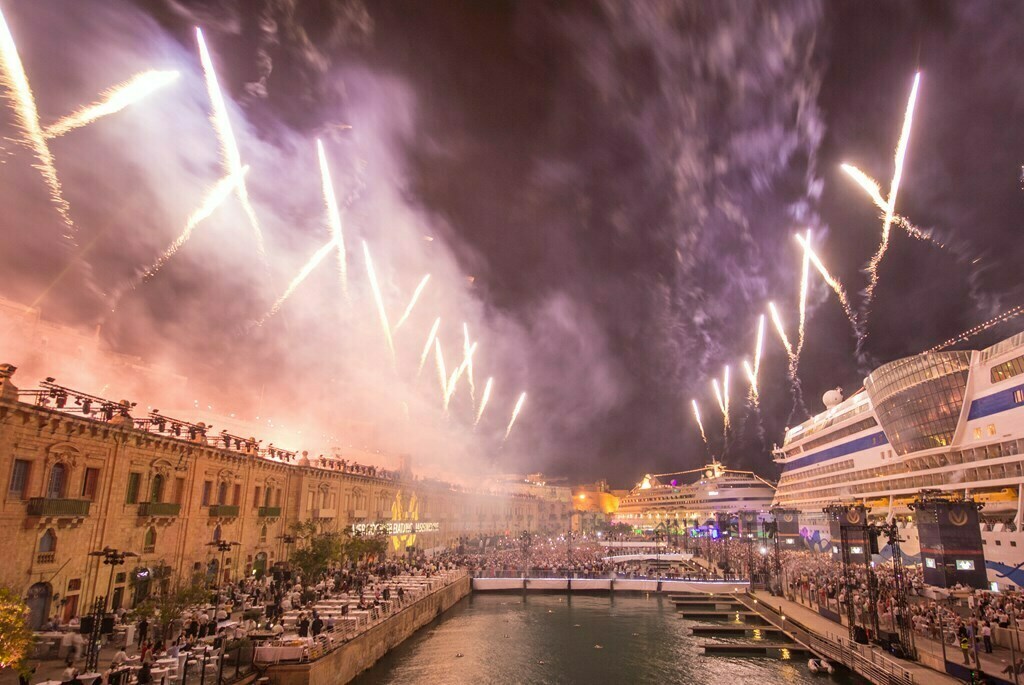 Tuesday 23rd September was a busy day for the Mediterranean port of Valletta as it hosted a total of five cruise ships.
Early in the afternoon four chartered AIDA cruise liners: AIDAaura, AIDAblu, AIDAdiva and AIDAvita berthed along Pinto Quays, bringing with them a total of 7,000 guests for an event marking the 40th anniversary of German company Deutsche Vermögensberatung (DVAG).
The ships were greeted with a full gun salute from the saluting battery at the Barrakka Gardens and a water display by tug boats. Valletta Waterfront hosted the event on an exclusive basis, featuring a grand light and pyrotechnic show. A special stage was built over the water at Laguna Marina for the performances of several renowned artists including Gloria Gaynor, Kim Wilde, Sarah Connor, Captain Jack and David Garrett. The historic Valletta Waterfront buildings and bastions provided the ideal canvas for this event.
This is believed to be one of the biggest ever private events to be held in Malta. Preparations started three years in advance and included not less than 900 workers.
The event was the result of a successful collaboration between a number of stakeholders including On Site Malta – the local Destination Management Company responsible for the overall organisation, Valletta Cruise Port, Valletta Waterfront and local authorities.
Paul Selis, Director, On Site Malta commented that, 'On Site Malta has done it, once again. After three years of meticulous preparation by my dedicated team in close collaboration with local and overseas suppliers, we delivered not only the largest ever private event held in Malta, but also the most complex one. We thank DVAG for giving us and Malta this opportunity to showcase our know- how and capabilities'.
Stephen Xuereb, CEO, Valletta Cruise Port said, 'We are proud to have hosted this event which puts our magnificent port, facilities and the Maltese Islands in the limelight. This event follows a similar event organised by DVAG some 10 years ago in the same location. It reaffirms Valletta Waterfront as a prime destination for large scale events. We hope that we will have the opportunity to welcome similar events in the future. Finally, I would like to take the opportunity to thank all the personnel at Valletta Cruise Port, who once again punched above their weight to make this event a successful one'.
Mein Schiff 2 was also in port on the day.
This was an eventful week for Valletta Cruise Port, where earlier in the week, during a visit to Malta, Prince William crossed Valletta's Grand Harbour on a typical Maltese boat, passing beneath Cunard's Queen Victoria.