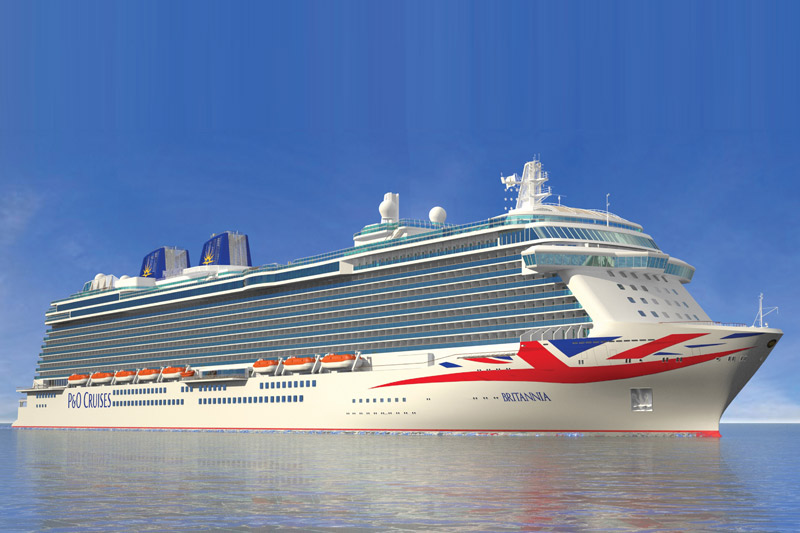 This year is satisfactory, according to David Dingle, CEO of Carnival UK, responsible for P&O Cruises, Cunard Line and Princess Cruises in the UK. "We are beginning to see green shoots of recovery," he said, "following five years of tough conditions. "We are seeing robust signs, and I think that 2015 is going to be a landmark year. We have not had a significant capacity increase (in the UK) since 2010, when the Azura and the Queen Elizabeth entered service."
Next year, P&O will introduce its newest and largest ship, the 141,000-ton, 3,611-passenger Britannia, which is under construction at Fincantieri. Princess will deploy its almost-new Royal Princess out of Southampton for the summer, and Cunard Line will be celebrating its 175th anniversary. In addition, a competing brand, Royal Caribbean International, will put its new Anthem of the Seas into the market.
"I happen to believe that new ships are important for invigorating the market," Dingle continued. "And new ships bring about step changes in demand. 2015 will be a huge year for cruising in the UK.
"The early market response to the Britannia has been very positive, also to the rest of the P&O fleet, as well as to Cunard's anniversary. These are good early indications that we are going to have a landmark year."
While P&O is dedicated to the UK market, Cunard is described as a British brand with an international following.
Part of Cunard's 175th anniversary celebrations will be a recreation of the line's very first trans-Atlantic crossing, which sailed from Liverpool on July 14, 1840. The Queen Mary 2 will sail from Liverpool on July 14, 2015, to Halifax, before continuing on to Boston and New York.
Other events include the marking of the 100th anniversary of the sinking of the Lusitania.
Discussing his strategy beyond 2015, Dingle said that brand clarity and differentiation will be keys to success.
"If customers cannot distinguish between brands," he said, "there is a danger that the product can become commoditized and consequently sell on price rather than on the brand."
Equally important will be to continue to deliver customer service, especially as customers become ever more demanding. "We must exceed their expectations," he said. "We are already delivering, but I want to put even greater emphasis on customer satisfaction."
Dingle said he is also focused on doing a better job of leveraging the company's corporate scale. "Nobody else carries more than 10 million cruise passengers a year or has 78 million bed nights. We have a massive scale we can tap into, supporting our purchasing, for instance, and we are working to harness it better."
Excerpt from Cruise Industry News Quarterly Magazine: Summer 2014