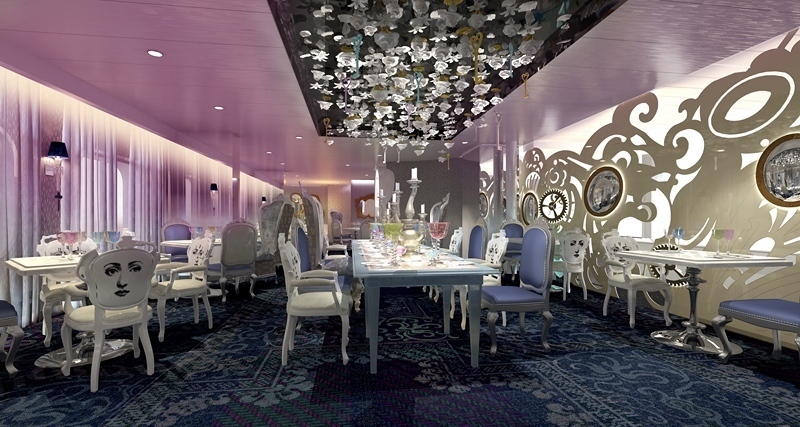 Where is the main dining room on the new Royal Caribbean International Quantum-class newbuilds? Gone forever. Enter what the Miami-based cruise line is calling Dynamic Dining. The Quantum will have 18 food options aboard when she sets sail this fall.
"In a nutshell, it's providing guests with total control and flexibility on how to decide where, when and who to eat with each night of their cruise," said Brian Abel, vice president of food and beverage operations, talking exclusively to Cruise Industry News. "Eighteen distinct restaurants really provide a huge variety in type of cuisine, price point, service style and they allow guests to pick and choose based on their state of mind and mood. Each restaurant is a distinct concept.
"We are looking at our current, loyal guests and their habits. Their behavior is changing over time and we are trying to provide them a new and better experience, while also attracting the new-to-cruise guest," Abel said. "The new to cruise may have never sailed before, and might not like dining the way it used to be perceived."
Abel noted some major differences in the Windjammer (buffet) for Quantum.
"The design is more modern and more contemporary than what we've done in the past," he said. "We have more action stations, and food islands each with someone behind them doing food prep."
Abel
Joining Royal Caribbean International in June 2013, Brian Abel moved over after climbing the ladder at Starwood Hotels & Resorts to vice president of food and beverage.
"This opportunity with Royal Caribbean came knocking and I liked the focus they put on the food and beverage," he said. "It's vital to the guest experience and a big part of the financial performance."
Abel said the guests were showing a trend toward general awareness and knowledge of food and beverage.
"They are more and more knowledgeable when it comes to quality and where the food is coming from," he explained. "It makes it so the industry has to up their game, because there is increased demand and knowledge, and that will keep continuing, and make the product and experience better."
Excerpt from Cruise Industry News Quarterly Magazine: Summer 2014