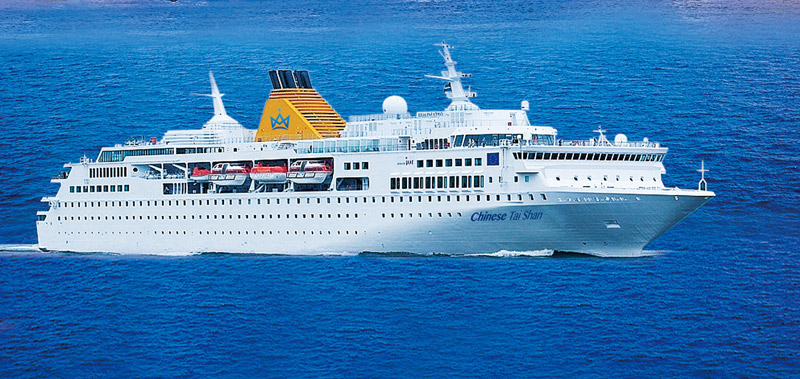 A new kid on the block has entered the cruise industry with China-based Bohai Ferry recently acquiring its first cruise ship from Costa Crociere.
Enter the 24,500-ton Costa Voyager, with a rumored price tag of roughly $44 million.
Handed over to Chinese owners on March 25, the ship became the Chinese Tai Shan, named after Mt. Tai in the Shandong Province, Bohai Ferry's headquarters, and arrived in Weihai's port of Shidao in Shandong on April 28.
Bohai Ferry, under the leadership of general manager Xinjian Yu, is China's largest passenger ro-ro company operating ferries on routes linking Yantai with other ports along China's northeastern coast. It is a publicly listed company in Shanghai with revenues of $188 million and total assets at $450 million, including nine large ro-ro passenger ships.
The newest of these vessels can accommodate more than 2,000 people and has a dual-use design, allowing it to serve as a civilian transport ship and as an "amphibious augmentation platform" performing troop and heavy equipment transportation for the Chinese military. When launched in 2012, the local Chinese media reported it as Asia's "largest, most advanced, safest and most luxurious commercial cruise ship."
With its ferries, Bohai is aiming to run its own hotel and marine departments, and was busy hiring a full range of crew this past spring.
At press time the ship was in Waihai for a refit at the shipyard Huanghai.
For now, the ship will focus on the five- to seven-day Chinese cruise market, and Yu revealed that this summer the line will call at ports in Korea and Japan before a winter program sailing toTaiwan and other countries in Southeast Asia.
Operations should be up and running midsummer.
Excerpt from Cruise Industry News Quarterly Magazine: Summer 2014