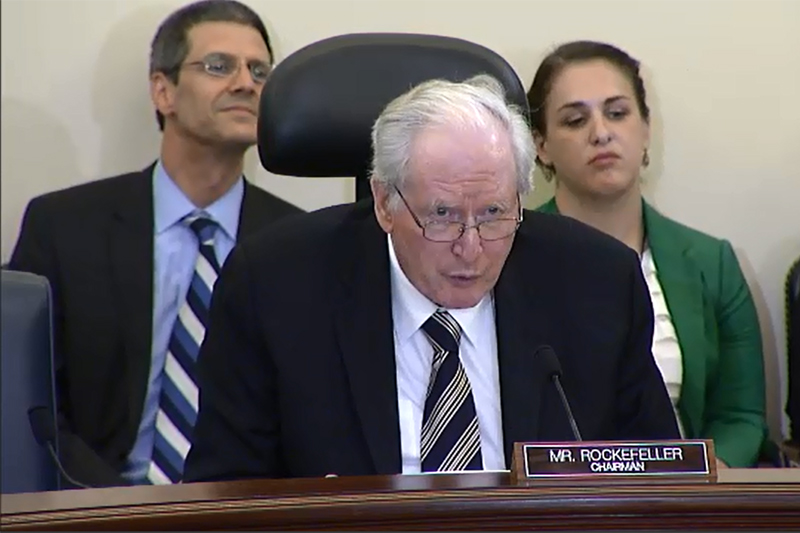 Another government hearing hosted by Senator John D. (Jay) Rockefeller, IV (West Virginia) saw the Democratic Senator focus on cruise ship safety with the U.S. Senate Committee on Commerce, Science and Transportation.
As opposed to previous hearings involving cruise line bosses and CLIA staff, this time it was victims testifying – recalling horrible experiences taking place onboard. There were no cruise lines testifying.
"Most people who take cruise ship vacations have a good experience," said Rockefeller. Adding later: "But once in a while, things can go terribly wrong: ships catch fire, passengers fall overboard or get sick, crew members sexually assault passengers… Incidents like these are unfortunately also part of the cruise experience.
"Almost exactly one year ago, Carnival's president told this Committee that his company's number one priority is 'the safety and security of our guests.' He explained to us how the cruise lines have every incentive to make sure their customers have a good experience," continued Rockefeller, saying he was (still) angry at the operating companies.
Thus, the Senator introduced the Cruise Passenger Protection Act of 2013, which proposed making it easier for passengers to report crimes and problems on ships, while simplifying ticket contracts.
"But the cruise industry vehemently opposes my bill – even the bill's simplest provisions, like reporting crimes against minors, or putting up a website at the Department of Transportation that consumers could consult while they are making their vacation plans," Rockefeller added.
"When an industry opposes even the most basic public disclosure about its conduct, it suggests to me that it has something to hide."
Rockefeller said he wasn't singling out the cruise lines, but instead asking tough questions that were relevant.
"This process of asking tough questions is called oversight," he noted.
Among the four guests that testified before the committee, three were victims of cruise ship-related incidents while the fourth was a lawyer who is a board member at the International Cruise Victims Association and representing a 15-year-old client that was raped on a ship.
Rockefeller said: "And to the cruise industry, instead of fighting this process, I encourage you to listen carefully to the testimony today. I ask you to honestly consider whether there are steps you can take to better protect the health and safety of your passengers. I believe there are steps you can take, and I will continue pushing you to make them. "
Previous hearings had seen cruise line CEOs present, but not this time, with Rockefeller adding he had met privately with the cruise lines as well.
On another note, he did, however, point out increased lobbying efforts by the cruise companies (CLIA added more public affairs staff earlier this week).