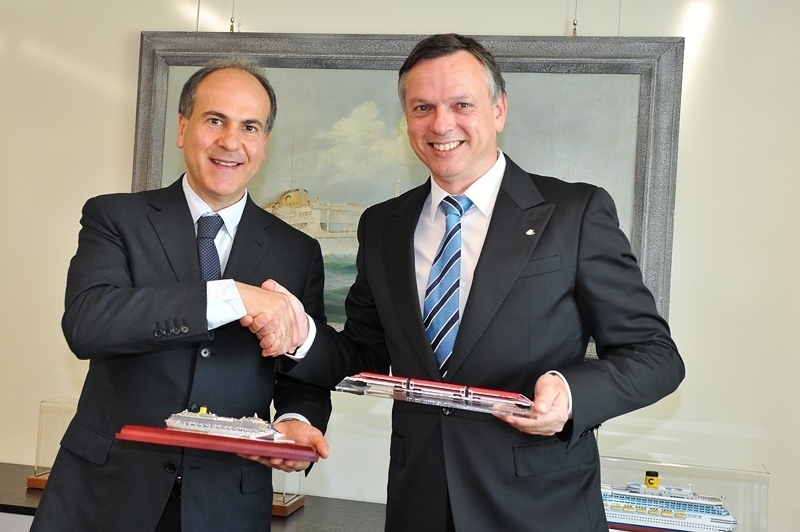 This morning in Genoa, Costa Group CEO Michael Thamm and Trenitalia Passenger Division Director Gianfranco Battisti, signed a strategic partnership agreement that aims to facilitate cruise guests' transfers to the ports of departure and arrival, thus contributing to the development of the tourist market.
"Rail &Cruise" (Train+Cruise) starts operating in Italy from July 1.
"With this strategic agreement, Costa Cruises continues to set its sights on innovation and the development of cutting edge products and services, with a view to improving the experience, the comfort and the satisfaction of the company's guests."- said Costa Group CEO Michael Thamm – The Rail&Cruise formula will not only be comfortable and convenient, but it will also have a positive impact in terms of sustainability, by making rail transfers easier".
"The idea of including the trip with Frecce trains in the cruise package is a proof of Costa's sensibility in providing a unique and exclusive door-to-door travel experience – stated Gianfranco Battisti, Trenitalia Division Director. – Thanks to this initiative, Costa Cruises' guests will be able to reach comfortably the ports of embarkation from several Italian locations, with a network of 245 Frecce per day, in addition to the Frecciabianca connection Turin-Trieste, the main innovation of 2015. This project – concludes Battisti – is a further step towards the development of a real integration, which will enable clients and agencies to book the train and the cruise tickets, all in once".
With this service, clients can purchase holiday packages that include, apart from the cruise itself, train tickets with special fares on Trenitalia's Frecce, included the new Frecciabianca connection Turin-Trieste. Costa's guests will travel in reserved coaches and they will be able to benefit from a series of services, included in the price: the door-to-cabin baggage transport, a station/port/station transfer service, Costa assistance at the departure station and on board plus baggage insurance.
Rail&Cruise will be available until the end of 2015 at Trenitalia's Frecce train (Frecciabianca, Frecciarossa, Frecciargento) departure stations, on connections serving Naples, Civitavecchia, Bari, Venice and Trieste, ports of embarkation for Costa Cruises in the Mediterranean.
The "Rail&Cruise" service can be purchased at Costa's partner travel agencies and on the website www.costacrociere.it.