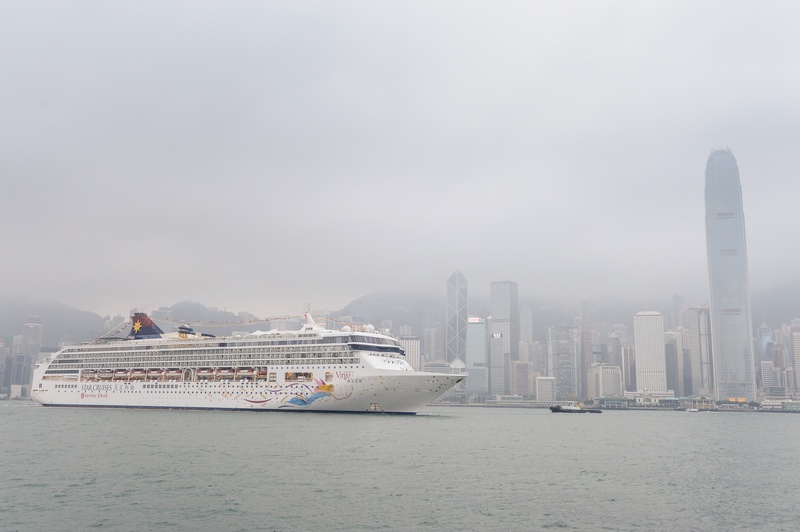 Star Cruises' SuperStar Virgo returned to Hong Kong for the first time in six years today. SuperStar Virgo is the only international cruise ship with regular destination cruises to be homeported in Hong Kong from now to 26 October.
The 75,338-ton 13-deck SuperStar Virgo carries up to 2,500 passengers in its 935 cabins and 1,870 lower berths. During the six-month deployment, it will be offering weekly 4D3N cruises from Hong Kong to Kaohsiung and Taichung, 4D3N cruises to Sanya and Halong Bay and 1-night highseas cruises to South China Sea. Once a month, passengers can visit Taiwan's three biggest cities—Taipei (Keelung), Kaohsiung and Taichung—on a 7D6N cruise.
The ship arrived at Ocean Terminal from Nha Trang this morning. About 1,600 guests were given a warm welcome amidst the drum show, lion dance and Police Band performances arranged by Hong Kong Tourism Board and received souvenir bags. To commemorate this landmark deployment, heads and representatives of tourism bureau and tourism boards across the region including Hong Kong Tourism Commission Commissioner for Tourism Mr. Philip Yung JP, Hong Kong Tourism Board Executive Director Mr. Anthony Lau, Taiwan Tourism Bureau Deputy Director General Dr. Wayne Liu, and Deputy Mayor of Kaohsiung Mr. Lee Yung Te graced the celebration with held on board.
Among the many surprises found at the celebration was the presence of celebrity couple Wong Cho Lam and Leanne Li. The lovebirds shared their cruising experience and were given a complimentary SuperStar Virgo cruise of their choice. Hong Kong homegrown cartoon icon McDull, who delights in promoting Hong Kong tourism for these years, was also overwhelmed with joy for being on board a cruise ship for the first time. He welcomed and posed for photos with guests at the sail away party. SuperStar Virgo will set sail for Kaohsiung tonight on a 3D2N itinerary. Over 1,300 passengers will receive traditional Taiwanese snacks and souvenirs at the welcome ceremony tomorrow prepared by the City of Kaohsiung.
As the pioneer of the Asian cruise industry, Star Cruises became the first international cruise line to homeport a ship in Hong Kong in 1994 with the deployment of Star Pisces. Since then, Hong Kong has been one of the permanent homeports of Star Cruises.
Genting Hong Kong Chief Operating Officer Mr. Blondel So said, "SuperStar Virgo is an immensely popular cruise ship. Our extensive array of entertainment, leisure, shopping, F&B offerings and renowned Asian style hospitality have long been celebrated by travelers in the region. Many tourists from China, Taiwan, Japan, Korea, Australia, as well as Southeast Asia and India, are flying to Hong Kong to take advantage of this opportunity and have a chance to explore the city. This deployment also serves as a prelude to the two 150,000-tonne mega cruise ships we have recently commissioned to build for the Asian market. It will pave the way for their respective deliveries in 2016 and 2017."
Hong Kong Tourism Commission Commissioner for Tourism Mr. Philip Yung JP said, "Given our geographic advantage and excellent infrastructure, we have strong potentials to become the cruise hub of Asia. The Guangzhou-Shenzhen-Hong Kong Express Rail Link and the Hong Kong-Zhuhai-Macau Bridge, will be completed in the coming few years. Coupled with our extensive connections with international markets, we are best place to capture the markets in Mainland China and oversea."