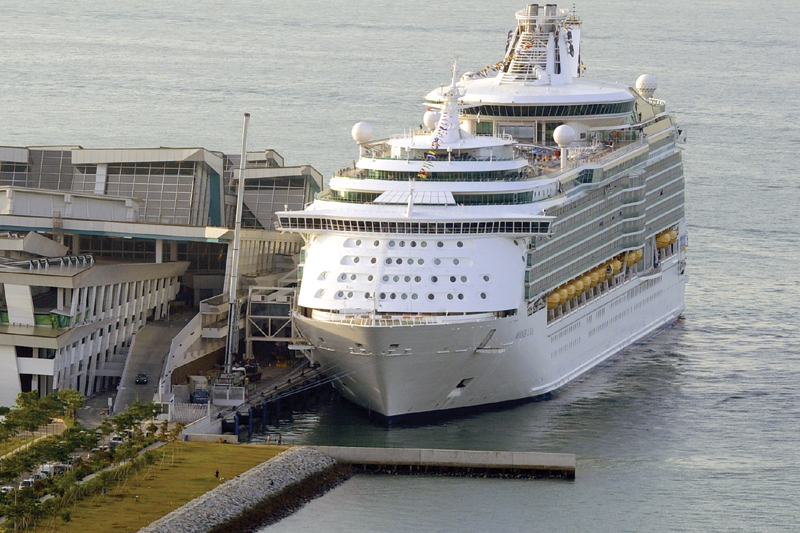 Moving the Quantum of the Seas to China and Asia will bump Royal Caribbean International's market share up significantly in 2015. According to the 2014/2015 Cruise Industry News Annual Report, Royal Caribbean is already the dominant brand in the China market with two ships and an estimated annual passenger capacity of about 300,000. The 4,100-passenger Quantum can bump that up by 66 percent, according to the company, or another 180,000 passengers.
Royal Caribbean has not yet announced specific itineraries or winter deployment for its soon-to-be three ships fleet in Asia, including the Voyager and the Mariner.
The move will not only clearly distinguish Royal Caribbean by having the newest, biggest and most innovative hardware in the market, it would seem to be a strategic decision to separate the brand from the relatively older and smaller tonnage of Costa, as well as to preempt a larger market entry by Princess Cruises and new tonnage from Star Cruises.
In a press briefing on Thursday, April 17, Lisa Lutoff Perlo, executive vice president of operations for Royal Caribbean, said that sometimes decisions are strategic in nature not immediately revenue driven. And in an earnings call last year, then President and CEO of the brand, Adam Goldstein, who is now president and COO of Royal Caribbean Cruises, said that the territorial dispute between China and Japan had necessitated some itinerary changes, and that while demand was reasonable, the company had reduced its revenue expectations. Port officials in Shanghai also expressed to Cruise Industry News last year that the supply was exceeding demand. Although a Quantum-class ship may just be the key to drive more demand.
Star Cruises is presently the largest operator in the region with an estimated annual passenger capacity of nearly 600,000. Costa has annual passenger capacity of approximately 260,000 and Princess about 52,000 in 2014.
Until the announcement that Royal Caribbean will move the Quantum to China, the only market growth announced was for Star, which is building two new ships, which will bump its market capacity above one million passengers a year and a 40 percent market share by 2017.