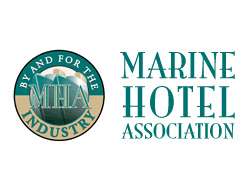 The 29th annual Marine Hotel Association (MHA) conference and trade show opened on Monday in Orlando, Florida.
Featuring some 250 exhibitors, the trade show floor was alive with energy as suppliers and various vendors connected with a number of cruise lines accessible during the show. Vendors with displays range from oven suppliers to wine brokers, major food and beverage companies and hotel amenity companies, among many others.
After a brief morning address by MHA President and Disney Cruise Line Senior Vice President of Hotel Operations Ozer Balli, the morning's keynote presentation was made by Robert Edsel, Author, Founder & Presidents of the Monuments Men Foundation.
A dinner event at Disney's Animal Kingdom, Harambe African Village & Everest Base Camp follows Monday evening, with Tuesday featuring another full trade show day after a morning cruise line presentation and a question and answer forum.
Visit Cruise Industry News at booth 236.