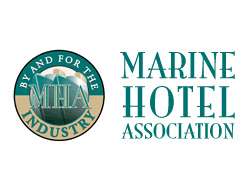 The Marine Hotel Association (MHA) is gearing up for its 29th annual conference and trade show to be held at the Hyatt Regency Grand Cypress Hotel in Orlando, April 27 – 29.
"This is proving to be one of our busiest years ever," Caroline Pritchard, executive director, told Cruise Industry News. "We have many new vendors, keeping the mix vital and offering new products and innovations for the cruise line supply chain and hotel operations staff."
Pritchard continued: "We have registered far more cruise line participation this year than ever. Our trade show and conference offer an integral opportunity for networking as well as showcasing. While it has grown significantly in the past decade, it is still an informal and more intimate environment that is typically experienced at conventions. It is about being able to approach people and feeling comfortable doing so. That is how it really is – not smoke and mirrors."
Thus, the trade show will feature more than 200 exhibitors, which Pritchard said is a manageable level, giving exhibitors and cruise line executives sufficient opportunity to spend quality time together.
Exhibitors cover nearly the full range of hotel products. "The mix becomes broader each year," Pritchard said. "We consider it critical to keep the mix of companies and products fresh and give as many newcomers as possible a chance to showcase their goods."
In addition to the trade show are social events, including an annual golf tournament, conference breakfasts and dinners.
This year, the Monday, April 28, breakfast will feature Robert Edsel as guest speaker. He is an author and founder and president of the Monuments Men Foundation.
On Tuesday, April 29, there will be a special cruise line presentation and forum with participation by Carnival Cruise Lines, Disney Cruise Line, Holland America Line, Lindblad Expeditions, Princess Cruises and Royal Caribbean International. The project is chaired by Michael Jones, vice president, supply chain, for Royal Caribbean. "They have put a lot of work into this; it will be an interesting and energizing session," Pritchard added.
Next year, the MHA will be celebrating its 30th anniversary and is planning two events – like it did for its 25th anniversary in 2012, when it organized its first conference and trade show in Europe.
"We are going back to Naples (Florida) next year. We are planning on a slightly smaller trade show, but more time for the conference content," Pritchard noted.
As for Europe, after completing its second European conference and trade show in Barcelona last fall, Pritchard said that for 2015, the event may take place on a ship instead of at a land-based hotel.
The 29th annual conference and trade show starts with the golf tournament, registration, a silent auction and a welcome reception on Sunday, April 27. After the conference breakfast and guest speaker on Monday, the trade show opens at 10:00 am and closes at 4:00 pm. The evening will feature an offsite dinner with transportation provided. Tuesday starts with breakfast and the cruise line forum, with the trade show running from 10:00 am to 3:00 pm, followed by the grand finale event. The registration fee covers the breakfasts, trade show attendance and most of the social events, including the dinners.