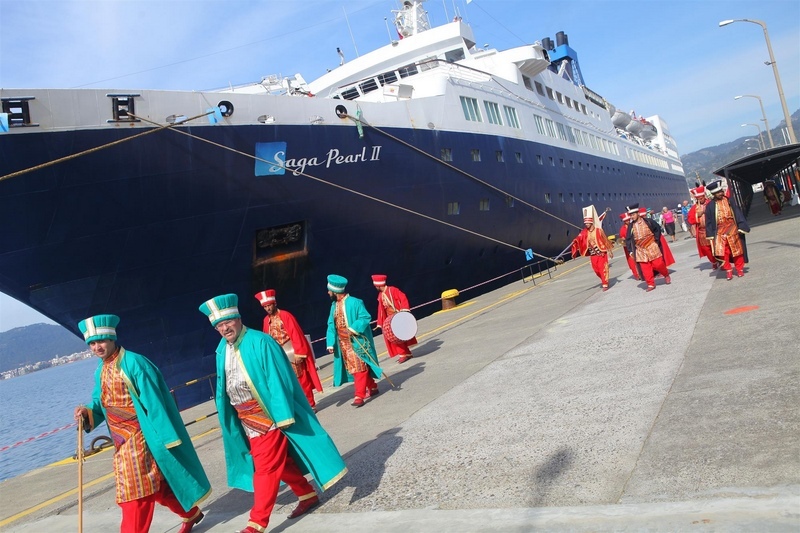 The Saga Pearl II made her Maiden Call at Marmaris today, meantime it was the first vessel to call in Marmaris this year. The ship came to Marmaris in the early hours of the morning with her 366 passengers and 263 crew onboard.
Once more Marmaris Cruise Port welcomed maiden guests in traditional Turkish style.
Saga Pearl II's guests were greeted with the music and shows of the Ottoman military marching band, also known as the "janissary band of musicians". Marmaris Cruise Port kept the traditional style welcome with a complimentary mini Turkish bazaar on the pier. The guests had the chance to walk through the mini bazaar as they disembarked their ship.
The mini Turkish bazaar included many Turkish tastes for the guests to see and try. These included; Varieties of Turkish Delights and a baklava stall. Guests were also presented with free souvenirs and gifts on behalf of Marmaris Cruise Port such as; carnation flowers and evil eye beads.
The warm spring weather kept guests happy as they enjoyed the various Turkish tastes and the music from the janissary band of musicians. The passengers then had the opportunity to discover Marmaris or go onto excursions of their choices.
The master of Saga Pearl II was presented with a commemorative plaque, made of a traditional Turkish tile; a handcrafted ceramic with Ottoman Galleon motives by Marmaris Cruise Port's General Managing Director, Sukru Tugay.