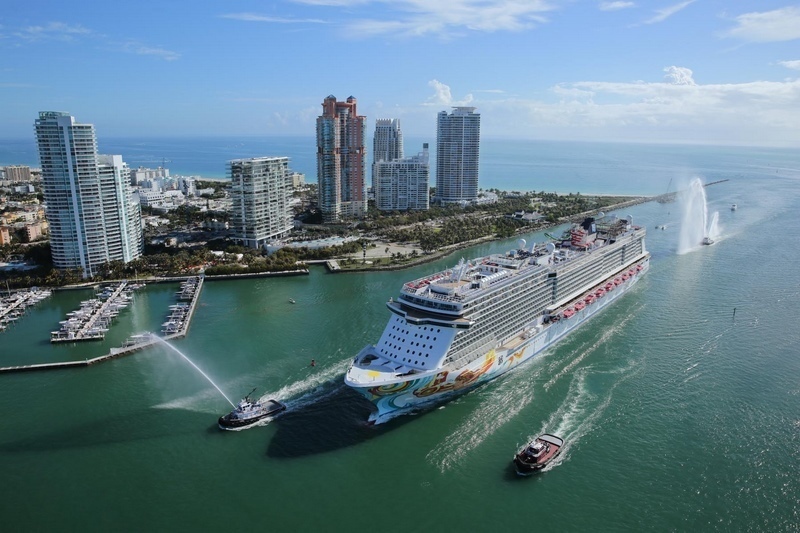 According to data from the 2014-2015 Cruise Industry News Annual Report, with full year operations by the Norwegian Breakaway in 2014, and the addition of the new Norwegian Getaway into revenue service this past February, Norwegian Cruise Line will become the third largest cruise company by capacity this year, trailing only Carnival Cruise Lines and Royal Caribbean International.
Norwegian's passenger capacity is estimated at 1,722,400 passengers, double occupancy, for 2014, up 19 percent from 2013.
Princess Cruises moves up considerably as well, also jumping some 18.5 percent in capacity thanks to two new ships, and a capacity number of roughly 1.6 million to make it the world's fourth largest cruise brand.
Another new ship from Costa helps the Italian brand grow slightly, with two months of additional capacity coming late in the year, to give Costa the fifth overall spot on the global capacity rankings, while MSC slides to sixth, flat for the year, and carrying over 1.4 million passengers at double occupancy.
MSC carried the third most passengers in 2013, following the delivery of the MSC Preziosa, but the Italian brand has yet to announce a much-rumored new ship program that could drive capacity increases as soon as 2016.
MSC, however, will pick up some capacity as it adds cabins as part of a ship-stretch program to its four Lirica-class vessels over the next two years.
>> Click here to order the 2014-2015 Cruise Industry News Annual Report