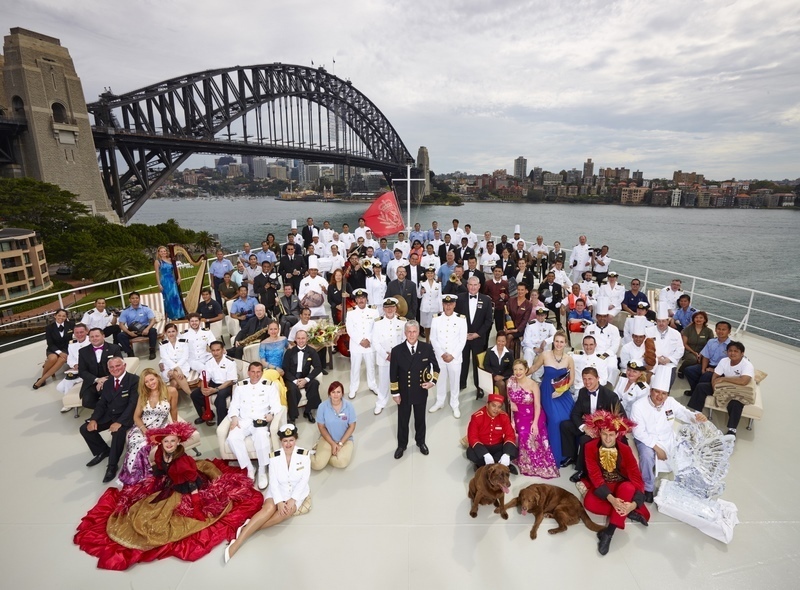 In a world-first, more than 120 crew from across Queen Mary 2 came together in Sydney today for a dramatic portrait marking the legendary Cunard liner's 10th birthday.
The history-making photo captured crew from every one of the liner's myriad staff roles – from gentlemen dance hosts and housekeepers to the kennel master and florist – to create an iconic image of Queen Mary 2's luxury life at sea.
Props featured in the shoot ranged from two dogs for the kennel master through to a double bass and a harp for the liner's musicians and a large ice carving for the resident ice carver.
Months in the making, the historic image was organised in Australia to commemorate the liner's 10th birthday and symbolise the strong link between Queen Mary 2 and Australia.
Since her memorable first visit to Sydney in February 2007, when eager spectators gridlocked the city and brought traffic to a halt, Queen Mary 2 has become a firm favourite with Australians, turning heads wherever she sails. Her visit to Sydney today comes at the start of her second circumnavigation of the country from Sydney, a 23-night roundtrip voyage which will see her visit seven ports around the nation.
Queen Mary 2 Captain Kevin Oprey said the historic photo shoot was a grand way to celebrate Queen Mary 2's 10th birthday and to honour the unsung heroes who make the world's most famous ocean liner tick.
"Australia has become Queen Mary 2's home away from home and I can't think of anywhere more special than Sydney to celebrate her tenth birthday and in such spectacular fashion," Captain Oprey said.
Cunard Marketing Director Angus Struthers, in Sydney for the historic event, said Australia had embraced Queen Mary 2 with Australians now ranking as the fourth largest source of guests for the cruise line.
"Queen Mary 2 is an amazing liner with a lot of wonderful features and Australians really know how to enjoy them all – from our ballroom and planetarium through to our fine-dining restaurants and Veuve Cliquot Champagne bar," Mr Struthers said.
Ann Sherry, CEO of Carnival Australia, which represents Cunard Line and six other cruise brands in Australia, said the photo shoot, undertaken by internationally acclaimed photographer James Morgan, was a uniquely Australian way of providing a vivid picture of the Cunard experience and the people who make it happen.
"Queen Mary 2 began her life at sea in 2004, but from that first arrival in Sydney three years later when she stopped the city in its tracks, Australians have made this wonderful ship their own," Ms Sherry said.
"At any one time, hundreds of Australians can be found cruising on Queen Mary 2, Queen Victoria and Queen Elizabeth, all of which are visiting Australia this cruise season."
Queen Mary 2 has visited Australia seven times. Today's visit to Sydney is her ninth, with the liner calling twice in 2012 during her maiden circumnavigation of the country and twice in 2013, at the beginning and end of her first circumnavigation of New Zealand.
At 151,400 tonnes with 1310 staterooms, a soaring six-storey Grand Lobby, the largest ballroom and library at sea, the three-storey 1347-seat Britannia Restaurant and Illuminations, the first planetarium at sea, Queen Mary 2 remains unchallenged as the world's most famous passenger ship in operation today.
In her ten years at sea, Queen Mary 2 has:
• Sailed the equivalent of three times to the moon and back
• Served more than 58 million meals, enough to feed the combined population of Sydney, Hong Kong, Cape Town, Rio and Dubai for an entire weekend
• Looked after tea lovers with 21.9 million cups of tea, enough to fill three Olympic swimming pools
• Baked 2.7 million scones, which if stacked on top of each other would reach a soaring 80km in height.
"Queen Mary 2 is the benchmark of international cruising and with today's photo call her crew have made a huge statement about why Australians love this ship so much," Ms Sherry said.