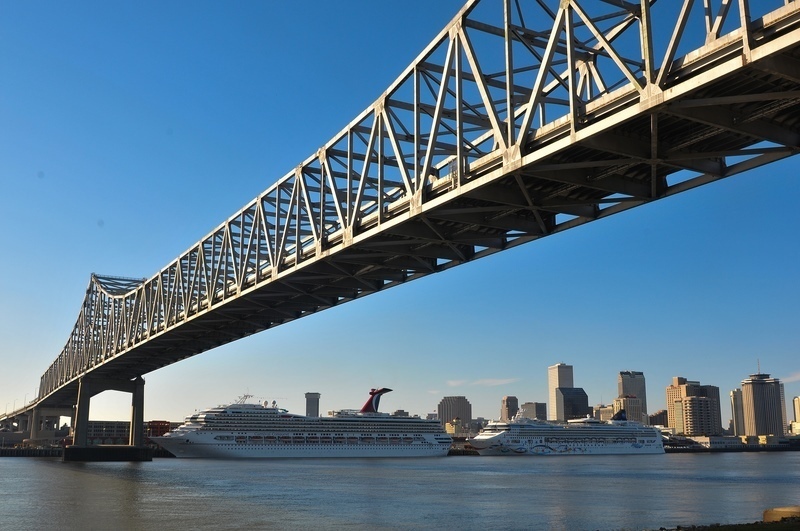 New Orleans—For the third consecutive year, record numbers of cruise passengers set sail from the Port of New Orleans. Port cruise terminals handled 987,860 embarkations and disembarkations in 2013, up more than 1 percent compared to 2012, which saw a 32 percent gain over 2011.
"The positive trend for cruising from New Orleans continues," said Gary LaGrange, Port President and CEO. "And with newer and larger ships sailing from New Orleans in 2014, the industry's economic impact and the passengers' cruise experience will be bigger and better."
"New Orleans is both a premier port and leisure destination offering the cruise visitor an opportunity to experience the romance and culture of New Orleans paired with an exciting cruise itinerary," said Stephen Perry, President and CEO of the New Orleans Convention and Visitors Bureau.
"The CVB recognizes the impact the cruise industry has on our economy and continues to dedicate marketing and sales resources to grow this important industry."
And cruise passengers have a slew of new ships to sail from New Orleans on a wide variety of itineraries. In November, the 3,006-passenger Carnival Sunshine replaced the 2,984-passenger Carnival Conquest. The Sunshine recently underwent a massive $155 million transformation and sails regular seven-day eastern and western Caribbean itineraries from New Orleans through April 2014, when Carnival will reposition the 3,646-passenger Carnival Dream from Port Canaveral, Fla., to New Orleans to sail year-round seven day cruises, replacing the Carnival Sunshine. The 2,052-passenger Carnival Elation will continue to sail year-round four- and five-day itineraries from New Orleans.
In October, the 2,376-passenger Norwegian Jewel replaced the 2,348-passenger Norwegian Star sailing seasonal seven-day itineraries from the Julia Street Cruise Terminal through April. In December, Royal Caribbean replaced the Navigator of the Seas with the newly renovated 2,476-passenger Serenade of the Seas, sailing weekly through April, as well.
In addition, New Orleans features a wide array of coastal and River cruises. American Cruise Lines sails its sternwheeler Queen of the Mississippi and American Queen Steamboat Co. sails the American Queen from New Orleans. Blount Small Ship Adventures sails inland itineraries aboard the Grand Caribe and Travel Dynamics International sails its Yorktown coastal ship from New Orleans.