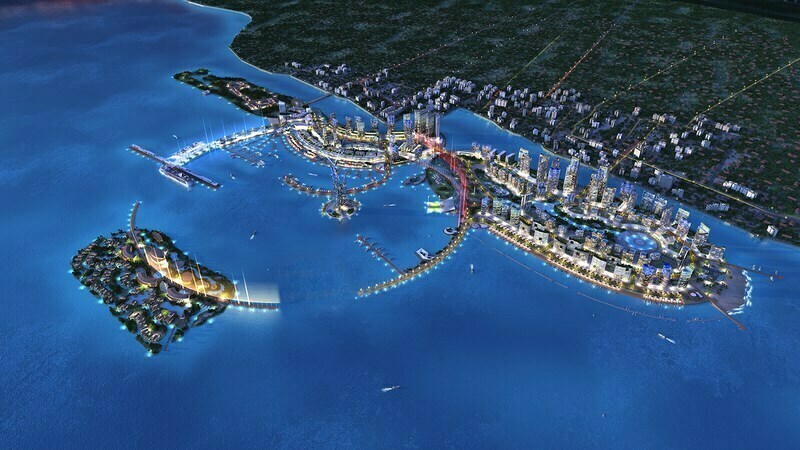 KAJ Development has announced its master plan for the Melaka (Malacca) Gateway which will comprise of what the company calls South East Asia's largest cluster of islands – one natural and two man-made islands – spanning 609 acres and a cruise terminal.
According to the announcement, the development initiative is projected to be completed by 2025 with an estimated gross development cost of RM 40 billion.
The launch of the project also saw the exchange of MOUs with international companies such as Kasen International Holdings Ltd. from China (1st investor in the Melaka Gateway project), Royal Caribbean Cruises, TRE Development of Singapore, Skkye Group of Italy and Rinani International AeroMarine Sdn. Bhd., a Korean-Malaysian joint venture.
Officiating the unveiling of the Melaka Gateway master plan was Prime Minister of Malaysia, YAB Dato' Sri Mohd Najib Tun Haji Abdul Razak, who said: "The Melaka Gateway is a ground-breaking and innovative tourism product that complements the government's tourism ambitions. This development is projected to attract an additional 2.5 million tourists over the next 12 years with high-yield consumers expected to contribute substantially to the tourism earnings of Malaysia. Further, its partnerships with world-class international brands will become a funnel for the influx of new international investors."
The projects earmarked on the master plan such as the Melaka International Cruise Terminal, new ferry terminal and South East Asia's biggest marina with up to 1,000 berths are cornerstones to re-establishing Melaka's maritime importance. Additionally, the establishment of a world-class maintenance and repair facility for mega yachts is set to attract luxury travelers to the state by sea.
Melaka Gateway is poised for long-term growth; contributing to both to the nation and state of Melaka. Further, the development will also see the creation of 15,000 job opportunities for the locals.
Chief Minister of Melaka, YAB Datuk Seri Ir Hj. Idris Bin Hj. Haron said: "The state government remains committed to creating more attractions to interest more visitors into Melaka, generate jobs and drive the state's economy. Following this, we are heartened to note that KAJD has been visionary in the planning of Melaka Gateway. The benefits of green building technologies and implementation of the monorail system will contribute to a sustainable future. As such, we applaud the development ofthe Melaka Gateway – a project that is very much in-line with our goals for the state."
Melaka Gateway boasts 15km of premier waterfront addresses for mainly high-rise luxury condominiums, exclusive marina villas with private jetties, catering the world's well-heeled. The iconic Gateway Beacon Tower housing 7-star hotel and luxury apartments, and a health and wellness development anchoring on the concept of Lifestyle of Health and Sustainability (LOHAS) will also be incorporated into Melaka Gateway.
"The construction of Melaka Gateway is an unprecedented move to once again set our nation on the world map. Inspired by the state's rich historical tapestry, Melaka Gateway is set to be a manifestation of how Melaka's glorious past evolves to become a model for the future. We see Melaka Gateway as a much sought-after waterfront investment for world citizens due to its unparalleled location, connectivity and integrated business and leisure offerings," said Datuk Michelle Ong, CEO of KAJ Development (KAJD) Sdn. Bhd.