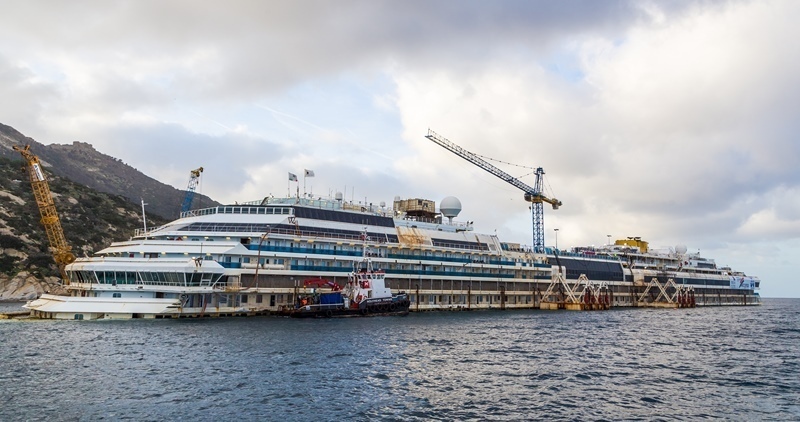 A press conference was held in Rome, Italy, today by Costa Crociere and the Protezione Civile to provide an update on the Costa Concordia Parbuckling Project.
It was announced at the conference that the ship wreck will be removed in June and then taken to a port to be scrapped.
A winning bid will be announced in March regarding which port will get the ship. It had been previously said that the ship was going to Sicily by major U.S. news outlets late in 2012.
The port that will accommodate the Concordia will need to have specific characteristics suitable for a wreck of this size (for example a 20 meter water depth in the port) and the necessary facilities for dismantling and recycling, in accordance with current national and international regulations and the highest environmental and safety standards.
As with the selection of the companies responsible for the Concordia removal project, Costa Crociere has adopted a transparent process to select the organization/companies and facilities for the dismantling of the Concordia wreck once it is removed from Giglio Island, in agreement with the Italian authorities.
A process has been arranged to choose the facility to dismantle and recycle the wreck using a method that offers the best solution in terms of certainty of outcome, environmental and workplace safety standards.
The process is being handled by technical consultants, London Offshore Consultants ("LOC"), on behalf of Costa Crociere and its Underwriters.
The process is divided into 3 steps:
1. Expression of interest, completed in November 2013
2. Invitation to tender, in progress
3. Final selection, expected to be completed by end of February-early March 2014