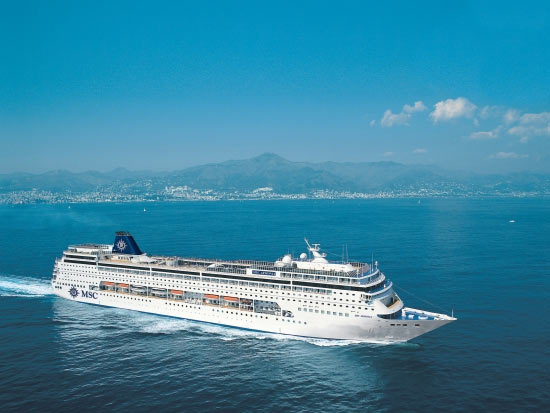 MSC Cruises today announced a multi-million euro program that will involve stretching all four of its Lirica class ships over the next two years.
The almost €200 million "renaissance programme" has been commissioned from Fincantieri in Italy, one of the world's leading shipbuilding companies, and will be complete by 2015.
The "renaissance" of MSC Armonia, MSC Lirica, MSC Sinfonia and MSC Opera will add exciting new entertainment options, technological advancements, extended shops and up to nearly 200 new cabins per ship.
The ships will boast a completely new water park, with a pathway of water features and water cannons.
The impressive onboard boutiques will be enhanced with new interiors, more space and an all-new perfumery with display corners dedicated to leading brands, such as Dior, Lancôme and Dolce & Gabbana.
During a press conference organised in Rome, MSC Cruises' Chief Executive Officer, Gianni Onorato, commented: "When our four Lirica class ships return to the seas after a total of 38 weeks in dry dock, they will be entirely new ships with additional amenities and comfort for our travellers, allowing them to reach sophisticated and refined destinations around the world. The extensive "renaissance program" represents a huge investment, and reaffirms, once again, our company's dedication to high standards, cutting-edge technology and continuous product innovation. MSC Cruises' ships are works of art in their own right and the 'renaissance programme' is going to make our fleet – already renowned for its unrivalled style and elegance – even more competitive".
Giuseppe Bono, Chief Executive Officer of Fincantieri, commented: "The winning of this contract is a source of great satisfaction to us in many respects. Above all, because it involves us with an important partner like MSC Cruises in a program that is highly ambitious both technically and operationally. It also allows us to strengthen our position in the refitting and refurbishment segment, considered among those in continuous expansion. In fact, in the increasingly competitive international scenario, a complex order like this confirms our position as one of the leading players in this sector".
The line of credit is entirely guaranteed by SACE, Italy's export credit agency and insurance and financial group.
"We are pleased to once again confirm our commitment alongside Fincantieri. This is a further recognition of the high quality of our shipbuilding industry and a sign of renewed optimism for the future of such an important industrial sector" said Alessandro Castellano, Chief Executive Officer of SACE. We are very proud to contribute to the financing of the plan announced by MSC Cruises, aware that the real winners will be the thousands of workers at Fincantieri and its SME supplier base."
Schedule and key figures
The MSC Lirica renaissance program will follow the dry dock schedule below:
• MSC Armonia (2004): August 31 to November 17 2014
• MSC Sinfonia (2005): January 12 to March 16 2015
• MSC Opera (2004): May 2 to July 4 2015
• MSC Lirica (2003): August 31 to November 9 2015
The four Lirica Class ships were built between 2003 and 2005 at the STX yards in Saint-Nazaire, France.
They are currently 251 metres long, weigh 60,000 tons and carry 2,069 passengers. After the "renaissance program", the ships will be 275 meters long, weigh 65,000 tons and carry 2,680 guests, boasting 193 additional cabins (plus 59 new cabins for crew members).