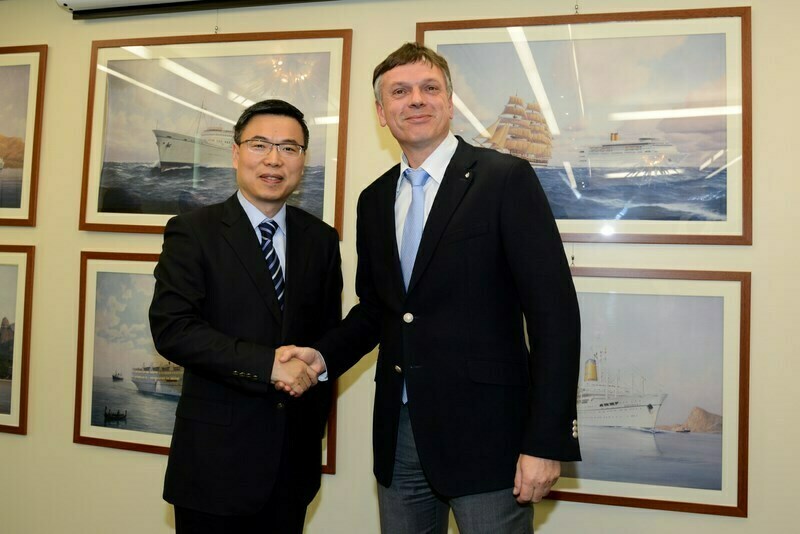 Costa Cruises and Baoshan District are strengthening their alliance to promote the future development of cruising in Shanghai.
Earlier today, a delegation led by Fang Shizhong, the new District Mayor of the Government of Baoshan, which is the administrative district of Shanghai where the Wusongkou International Cruise Terminal is located, paid a visit to Costa Cruises' Head Office in Piazza Piccapietra and met senior executives from the Italian Company.
Costa Cruises has played a large part in the development of the Chinese cruise industry: back in 2006 Costa became the first international cruise company to enter this market and offer regular cruises also targeting local consumers. Shanghai was one of the first ports identified by Costa Cruises for its expansion in Asia, and it is also the location of the Company's regional office for the Chinese market.
Shanghai's Wusongkou International Cruise Terminal is the biggest and most modern facility of its kind in the Asia Pacific region. By the end of this year the terminal will have clocked up over 900,000 passenger movements since it started its operation in 2011, with some 1,150,000 passengers forecast in 2014.
In the last few years Costa Cruises has contributed actively to the growth of Shanghai and China as a whole as a cruise destination.
The Italian company was the first to market cruises out of Shanghai in winter as well as summer, and it was also the first to position two cruise ships in China all year round. In July 2013 the Costa Atlantica joined the Costa Victoria, which had been deployed in China since May 2012.
In 2014 both cruise ships will be calling regularly at the Wusongkou International Cruise Terminal in Shanghai, with a combined total of 119 calls. Furthermore, the Costa Atlantica will be the first ship to offer Chinese customers an "Around-the-World" cruise; this 86-day trip of a lifetime departs from Shanghai on March 1, 2015.
The Costa Victoria and Costa Atlantica offer the Chinese and Asian market a unique exclusive product tailored to the local clientele, which brings the region a taste of "Italy at Sea", by featuring the hospitality, design, shopping flair, fine art and food & wine that are synonymous with Italian style.