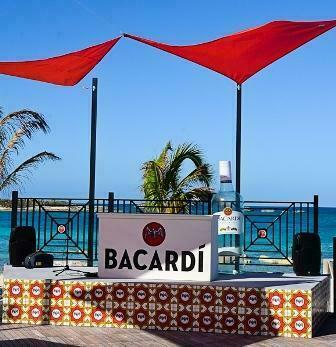 Norwegian Cruise Line announced today that the Bacardi Bar, a first of its kind rum bar, opened yesterday on Great Stirrup Cay, the line's private island in the Bahamas.
The Bacardi Bar on Great Stirrup Cay offers guests the opportunity to relax at a spectacular beach bar venue and experience Bacardi's range of exceptional rums at the beverage company's first permanent Bacardi Bar location in the Caribbean.
The Bacardi Bar on Great Stirrup Cay celebrated its grand opening yesterday during Norwegian Pearl's visit to the island. Guests sailing on board Norwegian Pearl attended the bar's opening festivities, which featured a live DJ set, exhibitions by two of Bacardi's top mixologists, drink samples, giveaways and an exciting christening ceremony which featured a ceremonious Bacardi-bottle breaking.
"We are excited to announce the grand opening of the Bacardi Bar," said Kevin Sheehan, Norwegian's chief executive officer. "We are honored to partner with Bacardi for the launch of our island's newest bar. Bacardi's rich history and quality beverage products are the perfect complement to our private island experience. We know that our guests are going to love spending time here during their visit to Great Stirrup Cay."
Inspired by Bacardi's rich 150 year history and distinct Cuban heritage, Great Stirrup Cay's Bacardi Bar and terrace feature the iconic Bacardi Bat logo, original Bacardi advertising artwork and Cuban-inspired fixtures including specially-designed tiles and shutters. Guests who visit the Bacardi Bar during their time on the island can experience some of Bacardi's superior craft rums through superb freshly made cocktails such as the Cuba Libre and the Original Bacardi Mojito. In addition, the Bacardi Bar will feature a flight of Mojitos so that guests can sample some of Bacardi's most popular Mojito creations.
"We have had a long, strong partnership with Norwegian Cruise Line I and am pleased that we were able to work together so closely to develop Great Stirrup Cay's new Bacardi Bar," said Zachary Sulkes, Bacardi Global Travel Retail Regional Manager. "It is partners like Norwegian that allow Bacardi to continue to bring added value to the cruise industry. Norwegian's Private Island offered an opportunity for Bacardi and Norwegian to give guests a new and unique experience, and we believe Norwegian's guests will agree when they visit the island."
In addition to the wide range of specialty cocktails that are offered at the Bacardi Bar, guests who visit the bar each week will have a chance to experience exclusive events and entertainment, including live mixology, live DJ's and a variety of interactive games.