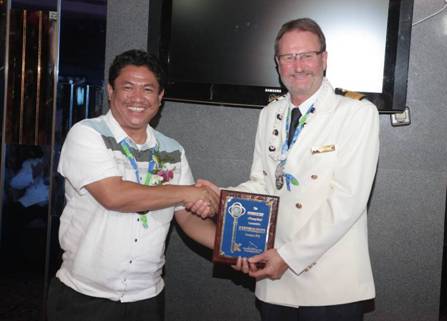 The SuperStar Aquarius made her inaugural call at Boracay for the first time yesterday (4 November), en route to its new homeport in Kota Kinabalu, the city capital of Sabah, Malaysia.
The 51,309-ton ship brought more than 1,100 Taiwanese, Hong Kong, Australia and Southeast Asian passengers from Kaohsiung, Taiwan to Boracay after her successful first call to Manila last Saturday (2 November).
The ship and passengers received a warm welcome from the Provincial Government of Aklan, Municipality of Malay, Philippine Department of Tourism and the media amid a traditional Boracay Ati-atihan performance put on by locals in vibrant costumes.
Captain Carl J. Nilermark of SuperStar Aquarius praised the island's unique coastline of unmatched beauty. "As one of the world's most beautiful islands, Boracay offers a kaleidoscopic selection of leisure activities and top tourist destinations such as Mount Luho and Crystal Cove. I am sure our passengers will fall in love with this tropical paradise."
He also thanked the Provincial Government of Aklan, the Municipality of Malay, the Philippine Ports Authority and the Department of Tourism Regional Office, and every party involved for making the call successful.
The welcome ceremony was graced by Ms. Gabrielle Calizo-Quimpo, Vice Governor of Provincial Government of Aklan, Honorable Jupiter Gallenero, Sangunian Bayan Member, Municipality of Malay, Mr. Erdie Cocoy, Terminal Manager, Philippine Ports Authority TMO Dumaguit and Atty. Helen Catalbas, Regional Director (Region VI) of Department of Tourism of the Philippines. After the memento exchange ceremony, the guests enjoyed a special lunch featuring Star Cruises' renowned international and Asian cuisines. They also went on a tour around the vessel.
SuperStar Aquarius will embark on her first homeport deployment in Kota Kinabalu on 6 November, offering itineraries to Muara and Bintulu.