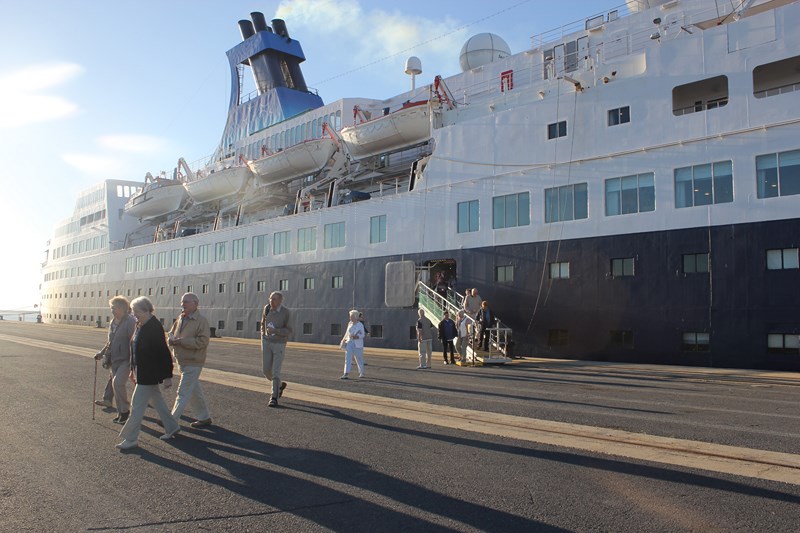 The vessel Quest for Adventure from Saga Cruises has docked today at the wharf South of the port of Huelva with 296 passengers onboard.
Some of the tourists arriving on this cruise will take part in excursions to visit landmarks of the province such as the Doñana National Park, the mines of Riotinto and Columbian places linked to the exploits of Cristóbal Colón, while other tourists will have the possibility to visit to the Huelva city by buses which communicated the pier with Huelva.
Moreover, from the Tourist Board has offered to tourists in the interior of the ship brochures and other promotional material of the city and the province.
The President of the port authority of Huelva, Manuela de Paz, has ensured that cruise tourism is a priority for the Port of Huelva, which has several wharfs for this, such as the so-called South and East.
Pedro García, director, also highlighted the bet of the port to diversify its activity with the opening of new traffic as the cruisers.
The port of Huelva is working to promote cruise tourism and boost the chances of the destination as Cristobal Colon port, in addition to the various tourist attractions offering the province related to mining, beaches, nature and gastronomy, among other resources.
Also, the port has launched an Observatory of cruises where are represented the Patronato Provincial de Turismo, the Tourism Office of Huelva, Business Council of tourism of the Onubense Federation of Businessmen and tour operators, with the aim of coordinating actions aimed towards the promotion of Huelva as cruise tourism destination.
In 2012, the port was visited by three cruise ships, with a total of 2,103 passengers.