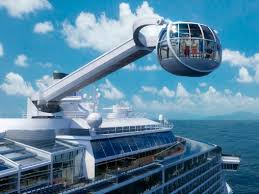 Royal Caribbean International's Quantum-class cruise ships will feature a unique crane and viewing "gondola," as previously announced. The North Star will lift guests some 91 meters above sea level to give them panoramic views of the sea and surrounding ports of call.
MacGregor won the contract earlier this year to deliver North Star to the Quantum ships. All three Quantum-class ships will feature the North Star experience, according to the supplier.
The electro/hydraulically-driven crane will have an outreach of 41 meters, and the 7.1-ton viewing "gondola" will be able to accommodate 14 guests and one crew member.
The North Star will have a stabilizing system to ensure that it remains level with respect to the vessel's deck.
It will also limit movements, providing a comfortable ride for the guests.
"We are the first crane supplier involved in anything like this type for a cruise ship," added Jonas Hägglund, MacGregor Sales Manager.
The system is designed for 100 percent redundancy with two separate power units, each large enough to drive the crane in reduced speed mode; it will also be provided with a diesel-driven emergency power pack.
Additional safety features include automatic cut outs and safety valve overload protection on all crane motions, according to MacGregor.
North Star will be controlled using a separate PLC safety system in addition to a MacGregor CC3000 crane control system.
"All crane movements will be smooth and immediate, with stepless speed control, essential for this type of guest experience. It is also important that the experience is as quiet as possible, so the main power pack will be rubber-suspended to minimize vibrations and noise transmission; the crane housing will also be insulated to minimize noise," Hägglund noted.