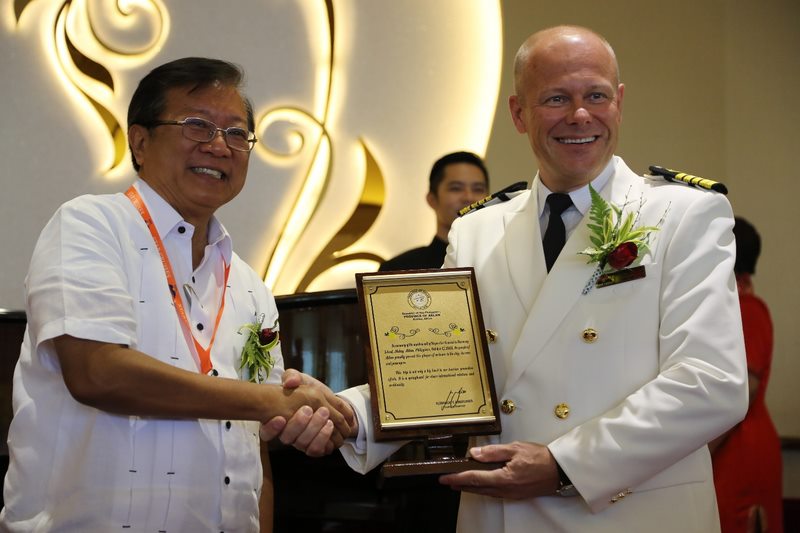 The SuperStar Gemini called at Boracay, the Philippines for the first time today. It was a key part of the ship's first Xiamen-based deployment kick-started on October 11.
Amidst a traditional Boracay Ati-atihan performance, the vessel and passengers were welcomed by the Provincial Government of Aklan, local communities and the media.
SuperStar Gemini Captain Jukka Silvennoinen described it as a significant moment.
This 7D6N charter cruise, bringing more than 1, 200 cruise passengers from Xiamen to Boracay, also marks SuperStar Gemini's first visit to the Philippines. The ship will call at Manila tomorrow (18 October, 2013).
"As a pioneer and leader of the Asia-Pacific cruise industry, Star Cruises has never stopped introducing new itineraries and exploring new destinations in the region. We believe these itineraries will energise local tourism and attract both new and regular cruisers."
"On behalf of Star Cruises, I'd like to take this opportunity to thank the Provincial Government of Aklan and the Department of Tourism Regional Office for all the support they have given us," he added.
The welcome ceremony was graced by Governor Florencio T. Miraflores and Vice Governor Gabrielle Calizo-Quimpo of the Provincial Government of Aklan, Ms. Roselle Q. Ruiz, Department Head, Aklan Provincial Tourism Office, Hon. Jupiter Aelred G. Gallenero, Sangunian Bayan Member, Committee on Tourism Industry, Hon. Rowen T. Aguirre, Sangunian Bayan Member, Committee on Law and Governance, both from the Municipality of Malay, Mr. Manuel Boholano, Port Manager, Philippine Ports Authority Iloilo and Atty Helen Catalbas, Regional Director, Region VI, Department of Tourism, Philippines. The guests were invited to board SuperStar Gemini to witness the memento exchange ceremony and tour the luxury liner. They also enjoyed a special breakfast featuring Star Cruises' renowned international and Asian specialty cuisines.