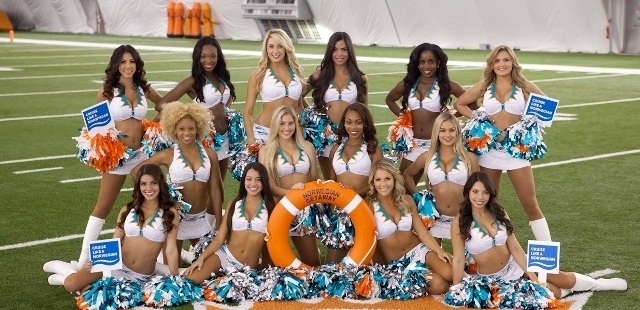 Norwegian Cruise Line and the Miami Dolphins announced today that the Miami Dolphins Cheerleaders will christen Miami's ultimate ship, Norwegian Getaway, as the official Godmothers.
The Christening Ceremony will take place on February 7, 2014 on board Norwegian Getaway, the largest ship to homeport year-round in Miami. The line also announced a partnership with the Miami Dolphins that designates Norwegian Cruise Line as the "Official Cruise Line" of the Miami Dolphins and Sun Life Stadium.
"Norwegian Getaway is Miami's ultimate ship, so the Miami Dolphins Cheerleaders are a great fit with our brand as they are excellent role models and global representatives of South Florida," said Kevin Sheehan, Norwegian Cruise Line's president and CEO. "There's no better match here in Miami than to have these outstanding women christen our new ship."
"Partnering with the world's premier cruise line allows us to align with another iconic South Florida brand that like the Dolphins, strives to provide a first class experience in everything they do," said Jason Miller, director of corporate partnerships for the Miami Dolphins/Sun Life Stadium. "It is truly an honor that our cheerleaders have been selected to christen the largest ship ever to homeport in Miami. We look forward to building a mutually beneficial long term relationship with Norwegian."
The Miami Dolphins Cheerleaders have been a visible aspect of Dolphins football history since 1966. These internationally known ambassadors for South Florida diligently rehearse every week to bring spirit and excitement to every game day and community event appearance. An ethnically diverse group of glamorous women, the cheerleaders wholeheartedly encompass what it means to be both beauty and brains, as they are all also well-respected professionals in their community.
The Miami Dolphins Cheerleaders, just as the team they represent, exemplify teamwork, performance, the pursuit of perfection and an unrivaled passion for football.
"We are honored to be selected by Norwegian to be the Godmothers of their newest ship, Norwegian Getaway. Norwegian Cruise Line is a first class organization and a well-known brand in our community, making this an ideal partnership," said Emily Snow, director of the Miami Dolphins Cheerleaders. "It is truly a privilege to be named as the Godmothers of Norwegian Getaway and we are anxiously awaiting the christening celebration."
Norwegian Cruise Line is also partnering with the Miami Dolphins throughout the football season at Sun Life Stadium and is an official sponsor of the team. At each home game, ticket holders can picture how they would "Cruise Like a Norwegian" by having their photograph taken in front of a Norwegian Getaway backdrop and they can enter a sweepstakes to win a cruise for four on Norwegian Getaway.
On-site ambassadors are available with information about Norwegian's newest ship and overall fleet. During the Miami Dolphins "Salute to Service" in the third quarter at home games, a military hero is recognized with a cruise for two on Norwegian Getaway, courtesy of Norwegian Cruise Line. Norwegian Cruise Line is also being promoted on the stadium television network for all events at Sun Life Stadium year-round, along with permanent signage under the scoreboard. The partnership also extends onboard Norwegian Getaway, as the ship's library will house Miami Dolphins memorabilia highlighting the team's rich history.
To celebrate the announcement of the Dolphins Cheerleaders as Godmothers of Norwegian Getaway, the cheerleaders will make an appearance at Norwegian Cruise Line's photo area on the Grand Plaza (across from the Dolphins store at Gate G) at Sun Life Stadium on Sunday, October 20 from 11 am to 12 pm. The Cheerleaders will be available for photos and will be giving fans commemorative posters.