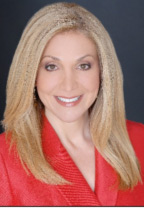 Crystal Cruises announced today that Gregg Michel has resigned as president, effective October 15, and cruise industry veteran Edie Bornstein will join the Los Angeles-based luxury line as its new president and chief operating officer on October 16.
Bornstein brings to Crystal more than 30 years of experience in the global cruise, travel and technology industries.
She was senior vice president of marketing and sales at Azamara Club Cruises, the upscale division of Royal Caribbean Cruises Ltd. (RCL), where she worked from 2009 until recently. It was under her leadership that she and her team re-launched the young brand as Azamara Club Cruises.
Previously, she was vice president of business development and strategic partnerships for Carnival Cruise Lines, and has also served as a senior officer at Cunard and Seabourn Cruise Lines, where she developed strategic plans and led partnerships with several respected luxury brands.
Prior to her in-house positions with the cruise lines, Bornstein was vice president of cruise and specialty sales, marketing and customer support for Amadeus Global Distribution System. At Amadeus, she was instrumental in the implementation of automation solutions for the cruise industry and numerous other projects.
Michel joined Crystal Cruises as senior vice president, finance and administration in 1988 and was promoted to president and chief operating officer in 2001. A past chairman of CLIA (the Cruise Lines International Association), Michel has helped develop safety and security policies for the industry during his role as part of CLIA's Executive Committee.
"NYK (Nippon Yusen Kaisha), Crystal Cruises' parent company, and the Crystal family greatly appreciate the efforts and accomplishments of Gregg Michel during his presidency, his service on our Board of Directors, and his contributions as a founding member of the management team," said Nobuyoshi Kuzuya, chairman and chief executive officer of Crystal Cruises.
"During his tenure, Crystal Cruises has maintained an enviable reputation in the luxury market, offering an unparalleled cruise experience. Besides his contributions to our own company, he has been a great champion of environmental efforts that have supported the cruise industry.
"Edie Bornstein is joining Crystal at a very positive time when we are growing our revenue, increasing the global agencies with whom we are working, and introducing so many new guests to Crystal Cruises. As we look to the future, we are very pleased that Edie is bringing her vast branding experience, technology expertise and passion to Crystal Cruises."
"Like so many in this industry, I've admired Crystal from afar," said Bornstein. "I always thought the line was ahead of the luxury curve with so many innovative programs and product features. I'm so proud to begin a new story with Crystal Cruises and join this team at sea and on land, who should feel so proud of this incredible brand. I look forward to building on this stellar reputation, growing our travel agent partnerships, and leading Crystal into the future."
Bornstein and her fiancé Tom Rodriguez will reside in Los Angeles.