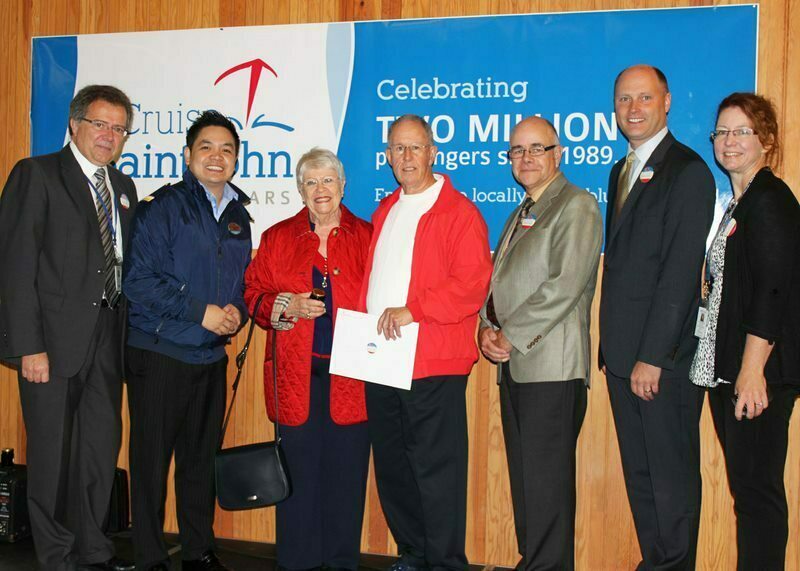 On Sept. 23, the two millionth cruise passenger visited the Port of Saint John aboard Royal Caribbean's Grandeur of the Seas. This is Port Saint John's 25th cruise season.
"This is a milestone to be proud of, especially during our anniversary year. There's a reason we've seen two million passengers stop by our Port – our community. Saint John is a truly unique place with unparalleled hospitality and our sense of community is what has continued to make us a destination," Jim Quinn, president and CEO of Port Saint John, said.
In the spirit of supporting local, the Port marked the occasion by giving out 1,000 bottles of wild blueberry jam to cruise guests from Grandeur of the Seas. Jam was distributed by crew members from the ship, Trevor Holder, Minister of Tourism, Heritage and Culture for the province, along with Port staff members and representatives from the Board of Directors. The jam, prepared by Granite Town Farms in St. George, gives international visitors a taste of a New Brunswick delicacy.
Kyle and Mary Jane Rensler, of Baltimore, MD, were also given a certificate for 25 lbs of New Brunswick lobster. Kyle was the Port's two-millionth guest.