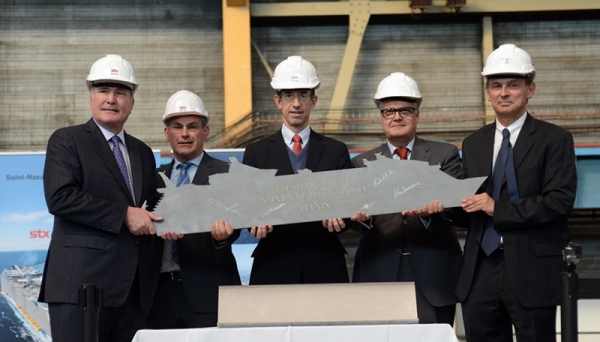 Royal Caribbean International cut the first piece of steel today for its third Oasis-class ship, marking the first construction milestone for a vessel that, at approximately 227,700 GRT, will be the world's largest and most innovative cruise ship.
Royal Caribbean Cruises, Ltd.'s Chairman and Chief Executive Officer, Richard D. Fain and Royal Caribbean International President and CEO, Adam Goldstein together with Laurent Castaing, chief executive officer, STX France, attended the event at the STX shipyard in Saint-Nazaire, France, where the ship will be built.
The cruise line's third Oasis-class ship is expected to be delivered in mid-2016.
"The Oasis-class ships have fundamentally changed the cruising landscape with the cornucopia of amenities and innovations that can be found onboard," said Fain. "We are delighted to be offering a third Oasis-class vessel for our guests as well as to be back at STX France after such a long tradition of building amazing ships together."
"We are excited to once again partner with Royal Caribbean International," said Castaing, "We have built 12 ships for Royal Caribbean and are extremely proud of the strength of our relationship. Oasis 3 is one of the biggest challenges ever undertaken in the history of our company and our teams are excited and ready to make this a successful project."
Oasis 3 joins sister-ships Oasis of the Seas and Allure of the Seas which took the cruise industry by storm with their introduction in 2009 and 2010, respectively, featuring a revolutionary design with a split superstructure and the cruise line's neighborhood concept of seven distinct themed areas.
"Our Oasis-class ships have led the charge in delivering the WOW for which Royal Caribbean is known," said Goldstein. "We are delighted to get the building process underway and look forward to the next chapter of this amazing class of ships."
Details of the third Oasis-class ship will be revealed in the coming months.