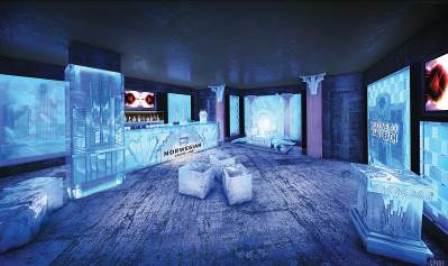 Norwegian Cruise Line announced today that Norwegian Getaway, the largest ship to homeport in Miami year-round, will feature a true ice bar on board, featuring three dimensional icy elements inspired by the ship's Magic City home.
Kept at 17 degrees Fahrenheit, the ship's ice bar will feature Art Deco-style décor, reminiscent of Miami Beach's famous Ocean Drive.
In addition, through an exclusive partnership with SVEDKA Vodka and Inniskillin ice wine, the Ice Bar will be named "SVEDKA/Inniskillin Ice Bar" and will feature Florida-inspired specialty SVEDKA and Inniskillin ice wine cocktails.
Like sister-ship Norwegian Breakaway, Norwegian Getaway's frozen chamber is guaranteed to give guests the ultimate chill.
Adorned with South Florida-inspired elements such as South Beach's iconic Ocean Drive skyline and palm trees etched into the icy walls, a "Welcome to Miami Beach" sign and a life-size alligator throne made entirely of ice, Norwegian Getaway's Ice Bar will be Miami's coolest place to chill out. In addition, the entire bar, seating and glassware will all also be made of ice.
Located on deck eight, the SVEDKA/Inniskillin Ice Bar will accommodate approximately 25 guests at a time, who will don hooded coats and gloves to keep warm, since the artic-like room's temperature will not rise above 17 degrees Fahrenheit.
Entrance to the SVEDKA/Inniskillin Ice Bar Ice Bar can be reserved from 5:30 p.m.-10:30 p.m. nightly. The cost is $20 per person and includes two signature cocktails that will be served in specially-created glasses made entirely of ice.
The SVEDKA/Inniskillin Ice Bar will feature five Florida-inspired specialty drinks made from SVEDKA vodka and Inniskillin ice wine including:
• Tropicana: SVEDKA citron vodka, triple sec, lemon juice;
• Carmen Miranda: SVEDKA vodka, peach liquor, orange juice;
• Sittin' on the Dock of Biscayne Bay: SVEDKA citron vodka, Inniskillin Icewine, lemon-lime soda;
• Blue Caribbean: Inniskillin Icewine, SVEDKA vodka, blue curacao, club soda;
• Key Largo Colada: SVEDKA colada, campari, sweet vermouth, orange syrup.
The Ice Bar will also serve two non-alcoholic drinks: the Sting Ray, made of strawberry puree, pineapple juice and lemon juice; and Parrot Island, made of orange juice, vanilla ice cream and milk.