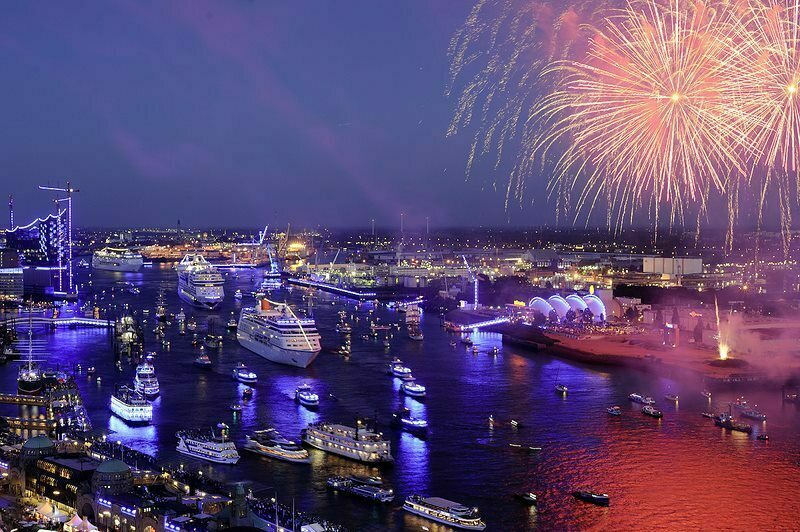 Hamburg Cruise Days rank amongst the most popular and successful public events anywhere in Europe: last year, 570,000 people took part in the fascinating festival, experiencing a wide variety of maritime highlights in one of Germany's most appealing cities.
The harbour is all the more unique since it is located in the very heart of Hamburg, which makes it easily accessible to visitors. As ever, the spotlight of the 2014 event will focus on the majestic cruise liners and unforgettable entertainment along the harbour.
From 1st to 3rd August 2014, the Hanseatic city of Hamburg will turn its full attention to cruises once again. Seven stately luxurious cruise liners will drop anchor in Hamburg, and the waterfront between the city's two cruise centres will transform into a one-of-a-kind cruise mile with all sorts of culinary delights, charming street artists and entertainment, shopping, maritime markets and culture.
As in previous years, the art installation BLUE PORT will bathe the harbour and striking historic buildings in a magic blue light. The highlights of the event on the water are the Hamburg Cruise Days Parade, where illuminated cruise ships and countless escort ships travel down the Elbe by night, and the Cruise Night, which features a fleet of party ships.
Event organiser Uwe Bergmann from uba gmbh explains, "We want to bring things to shore: our idea is to move the spirit of maritime life and the world of the cruise onto the banks of the Elbe, as we did successfully in 2012." Event organiser Katja Derow from redroses communications adds, "Hamburg Cruise Days 2014 will be a top-tier happening, a high-end event with a relaxed atmosphere, and it will fascinate and enchant people of every age."
Hamburg Cruise Days were first held in 2008, and since that time they have consistently drawn huge crowds. So far the event has been held in even-numbered years, but this timetable will change as of 2015 due to a new cruise week: From that point on, Hamburg Cruise Days and Seatrade Europe, the leading European exposition for the cruise industry, will be held during the same week in odd-numbered years. This temporary shift in the schedule of the event is already being taken into consideration during the planning phase for Hamburg Cruise Days 2014.
Thorsten Kausch, the managing director of Hamburg Tourism, states, "Hamburg Cruise Days and the Blue Port are a true highlight of our city. With its 173 scheduled port calls in 2013, Hamburg has more arrivals and departures than any other German harbour, placing it at the top of the rankings for German cruise harbours. With the upcoming cruise week, an event which is unparalleled around the globe, we are further strengthening Hamburg's position as a key city in the industry. We are pleased that we can take advantage of this synergy, and we look forward to seeing how Hamburg and the world of cruises both become even more attractive."