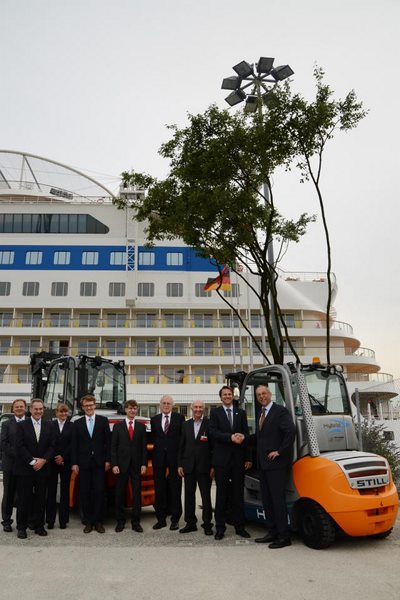 Cruise ships calling at the port of Hamburg have become more sustainable since last week.
The port has bought 10 energy-efficient STILL forklift trucks for cruise operation, and that order includes some five hybrid lift trucks which STILL is the only company to produce in series.
The ceremonial hand-over on Monday, 12 August at the Hamburg Cruise Center HafenCity was attended by, among others, Dr Bernd Egert, State Secretary of Hamburg's Ministry of Economic, Transport and Innovation Affairs, as well as also Joachim Köhn, Managing Director of HanseCC. In a symbolic act expressing the city's commitment to sustainability Matthias Klünder, manager of STILL's Hamburg branch, also presented HafenCity Hamburg GmbH with a tree.
The purchase of the new fleet of forklift trucks has been driven by the desire to achieve significant reductions in energy consumption and thus also CO2emissions when handling cruise liners at Hamburg's terminals.
HanseCC's management turned to Uwe Kleinwort GmbH, a company which is, among other things, a specialist for the leasing of terminal vehicles, for assistance in fulfilling these requirements. "When it comes to issues relating to energy efficiency in particular STILL is one of the leading manufacturers throughout the entire industry," said Uwe Kleinwort explaining the selection of STILL vehicles. "This is, of course, especially true of the hybrid trucks."
The STILL RX 70 Hybrid is the first serially produced hybrid lift truck to use the transmission of electric power– generated when the vehicle brakes – to recover energy. This energy is stored in double layer capacitors, known as ultracaps, before subsequently being made available to the forklift truck again. Industries in which frequent braking and acceleration takes place are thus ideal fields of application for the RX 70 Hybrid – which is, for example, the case when loading and unloading cruise liners on harbour docks, some of which are cramped.
The objective during a complete passenger changeover at Hamburg's cruise terminals is to unload and load a large quantity of luggage and provisions on board within a very short space of time. With an average of some 2500 guests embarking and disembarking and a cruise time of 10 to 14 days this represents around 5000 pieces of luggage which need to be handled. In addition to this 10 to 15 trucks arrive at the pier to deliver provisions which must be transferred to the ship quickly and systematically. With an average of 28 consignment pieces per truck this can soon add up to 420 pallets, representing a loading weight of some 200 to 250 tonnes. By way of comparison: A Jumbo Jet's hold has a freight capacity of around 20 tonnes; the handling of supply goods for a cruise liner thus represents some 10 to 12 Jumbo loads.
The right ground conveyors are the cornerstone of efficient, sustainable handling of goods. This is why, within the scope of an invitation to tender in 2013, the cruise terminal operator decided to switch over its fleet to hybrid and electric lift trucks. The RX 70 Hybrid in particular combines efficient handling performance with environmental responsibility in a unique manner.
Added State Secretary Dr Egert: "We consider sustainability and economic performance to be two sides of the same coin. With its innovative fork lift truck STILL has provided impressive proof that it is possible to gain a competitive advantage thanks to unique selling propositions in the field of sustainability. This requires innovations, which we as an innovation ministry wish to promote wherever possible."
Over and above this numerous further measures are in place at the Hamburg terminals to boost environmental protection with regard to the reduction of emissions and noise. These include, for example, the light management system at the Hamburg Cruise Center Altona, aimed at reducing electricity consumption. Concerted noise reduction activities within the scope of dockside operations are, however, also a matter of course – for example the sound insulation of the mobile cranes employed as well as also the use of state-of-the-art fork lift trucks. The provision of electric power supply connections on the pier ensures that the operation of the refrigerated trucks on hand is environment-friendly.