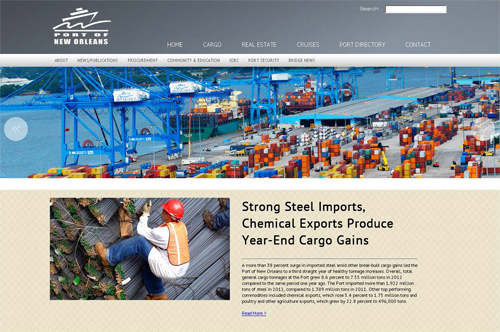 The Board of Commissioners of the Port of New Orleans launched its newly redesigned web site today, along with a social media platform intended to inform the community, customers and stakeholders of the most up-to-date happenings.
The website, still found at www.portno.com, has a new streamlined design presenting three basic Port categories of "Cargo," "Cruises" and "Real Estate." The categories educate the public on the business of the Port, while helping the user easily navigate to the information they seek.
"The new sleek design and navigational ease of the website will not only benefit the public seeking information on the Port of New Orleans, but will help customers and stakeholders find the answers to their questions more efficiently," said Gary LaGrange, Port President and CEO.
Valence LLC, a New Orleans-based public relations and branding firm, redesigned the site working closely with Port staff and administrators.
"It was a pleasure to work with the Port of New Orleans while implementing a new website. We are proud to have been given an opportunity to work alongside one of the region's chief economic drivers, and contribute to the continued growth of the greater New Orleans area," said Valence Founder and CEO Ron St. Pierre.
In addition to the new design, the site expands upon the Port's cargo handling capabilities and facilities, along with cruise schedules and passenger information.
Other features include an expanded "Procurement" section for firms wishing to do business with the Port, updated bridge information, and an expanded section for Foreign-Trade Zone – complete with detailed information on how the Port's FTZ benefits can help companies excel in international markets.
In conjunction with the website, Port officials launched social media platforms Facebook, Twitter and YouTube to better communicate up-to-the-minute news and happenings and to engage our friends and colleagues around the globe.
"We hope the maritime community and the general public peruse our new website and social media pages to gain a better understanding of the economic engine that is the Port of New Orleans," LaGrange said. "And don't forget to 'Like' us on Facebook and 'Follow' us on Twitter to keep up with everything happening on our docks."