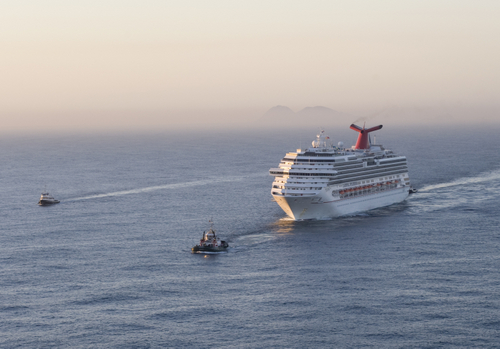 The Coast Guard Monday released the final report on the investigation into the November 8, 2010, fire onboard the cruise ship Carnival Splendor.
The vessel suffered a major mechanical failure in the number five diesel generator, resulting in the fire, according to the Coast Guard.
Post-casualty analysis of the event revealed that the installed Hi-Fog system for local protection was activated 15 minutes after the initial fire started. This delay was the result of a bridge watchstander resetting the fire alarm panel on the bridge.
This was a critical error, said the Coast Guard, which allowed the fire to spread to the overhead cables and eventually cause the loss of power.
The release went on to say:
"While the fire was eventually extinguished, the failure of the installed CO2 system and the poor execution of the firefighting plan contributed to the ineffectiveness of the crew's firefighting effort. There were no injuries or fatalities as a result of this marine casualty and the vessel safely reached the port of San Diego, Calif., November 11, 2010.
"As a result of this casualty and the initial findings by investigators, the Coast Guard issued two safety alerts which covered the operation, testing and maintenance of CO2 systems. Furthermore, Carnival took steps to evaluate fire safety systems, firefighting doctrine and training, and procedures for inspection and testing of installed safety systems. Specifically, Carnival has removed the 40-second time delay from the automatic activation sequence for the Hi-Fog system and has implemented short- and long-term solutions to rectify the problems associated with the activation of the CO2 system.
"There are five safety recommendations in the report addressed to Carnival, Lloyd's Register, Panama and the Coast Guard. The recommendations address the conditions onboard the Carnival Splendor that contributed to this casualty, as well as the problems with the CO2 system installation on all Dream class vessels. In addition, the recommendations to the Coast Guard address the need for improved guidance to enhance the conduct and evaluation of fire drills.
"As a Substantially Interested State, the Coast Guard performed a safety investigation of the incident on behalf of the Carnival Splendor's flag state, Panama. The investigation included representatives from Panama, the National Transportation Safety Board, Carnival Cruise Lines (including their legal representatives and technical experts), Wartsila (Splendor's engine manufacturer) and various other specialists.
The report may be accessed on the Coast Guard's Homeport page – click here.