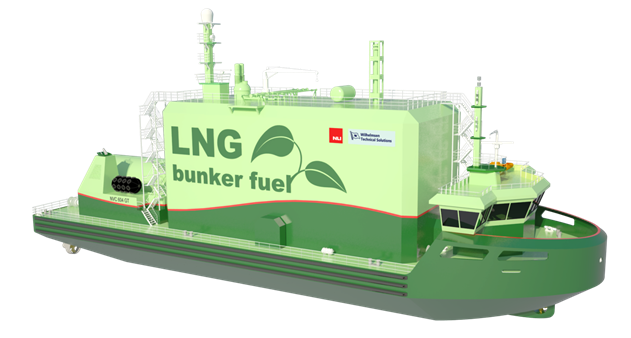 Offshore oil and gas engineering specialist NLI Solutions (NLI) has developed a concept for a LNG Bunker Barge based on the NLI LNG tank design. The concept has been further developed in a design study together with the Marine division of Rolls-Royce and Wilhelmsen Technical Solutions (WTS).
LNG is among the cleanest and most cost efficient options for low emission shipping. Interest in LNG as a marine fuel is rapidly increasing, but one limiting factor is practical availability of LNG bunker facilities.
LNG Bunker Barges are often described as the 'missing link' in the LNG supply chain. Today, only one example exists, capable of carrying 187 m3 of LNG, even though ocean-going ships need to bunker several thousand cbm.
The HighTechBarge is designed to answer multiple demands for a cost-effective, high-tech high-volume barge.
For safe operations and increased maneuverability, the HTB will be equipped with podded propulsion similar to those used in offshore support vessels as well as state-of-the-art electronics for early threat detection.
The NLI LNG tank is an atmospheric, prismatic steel tank, type 'B', with a capacity of 4000 m3 of LNG. It will be fitted with a new insulation system with very low levels of boil off gas.
Onboard power and propulsion are fed by an environmentally-friendly gas engine. The HTB has a large pressure tank on the aft deck for boil off gas handling and gas delivery to engine.
Since re-condensation equipment is very expensive, takes a lot of space, and has very low efficiency for small installations like this, excess boil of gas can be delivered to a shoreside gas grid when the barge is not on bunkering operations. The barge can also deliver electric power to a shoreside electric grid.
Planning for the study has been carried out between:
• NVC – responsible for design, Bergen gas engine, pod drives and bridge systems;
• TI Marine Contracting (part of WTS) – responsible for insulation systems;
• NLI – responsible for tank, LNG/gas systems, bunkering systems;
• DNV – evaluation of the barge concept with respect to limitations and possibilities within the existing codes and regulations.