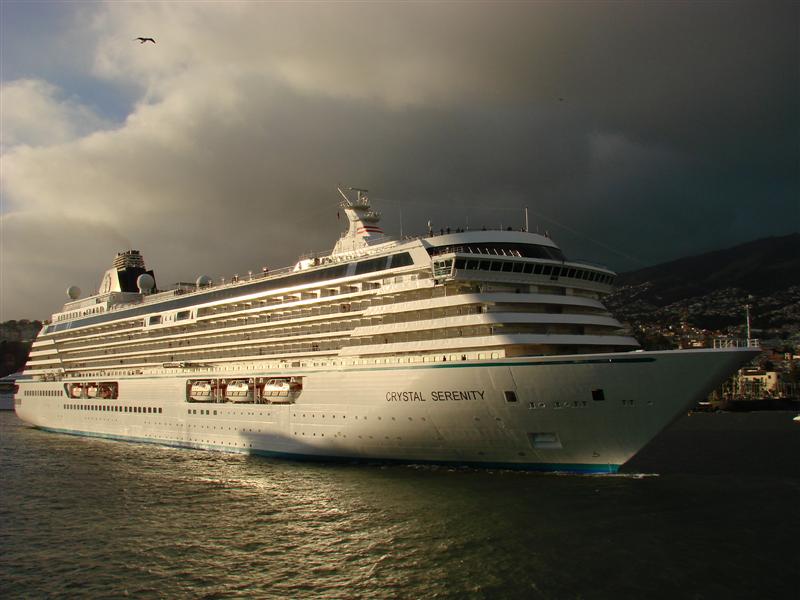 Crystal Cruises is preparing for a $17-million redesign of the Crystal Serenity this November.
The line is planning sweeping makeovers of the ship's Crystal Penthouses and Lido Deck, including the popular indoor/outdoor Trident Grill, Tastes restaurant, and Crystal Serenity's Lido café. Building upon the success of Crystal Symphony's "living wall," Crystal is expanding its green concept to the Lido area. Maintenance, cleaning, mechanical updates, and environmental upgrades will also be implemented throughout the ship's interior and exterior spaces during the tw0 week dry dock at the Navantia Shipyard in Cádiz, Spain.
Come November, Crystal will have spent $52 million on Crystal Serenity's Extreme Makeover in the past two years and almost $120 million on the Extreme Makeover of its fleet in recent years.
"Our redesigns aren't merely new fabrics and soft goods. It is indeed extreme when you take out pools, tear down walls and completely re-invent spaces to create new chic, contemporary, and exceptionally welcoming and comfortable public areas and accommodations," says Crystal President Gregg Michel.
"While we are honored we have won respected design awards for our remodels, we are even more gratified by the response from our guests – international travelers who have an eye for style and appreciate fine design in their lifestyle and when they vacation"
Lido Deck
London's Adfecto design firm was inspired by Santa Barbara's casual, yet cultured, "American Riviera" vibe for the transformation of the ship's spacious Lido deck. Natural stones, wrought iron, and an array of blues set the resort-like tone for space's major reconfiguration that will remove its indoor pool and Tastes kitchen, move the ice cream bar to the Trident Grill, and add more sofa seating, an open kitchen, and a cocktail bar. In addition, four "living walls" and additional greenery surrounding the Trident lounge area will bring the outdoors in.
As with Crystal Symphony, Crystal Serenity's Lido café will be redesigned with modern food islands replacing long buffet counters, more tables for two, and a fresh baked goods kitchen. A new, cherry wood dance floor will also be installed in the Palm Court, the ship's largest gathering place for drinks and dancing.
Toronto's II BY IV, the firm that won major design awards for its previous remodel of Crystal Serenity's staterooms, is redefining the ship's four top suites with clean lines, classic simplicity, and refined elegance in a dramatic ultra-contemporary remodel.
Interiors of the butler-serviced, 1,345 square-feet residences will be gutted and spaces completely reconfigured.
The dining area will move closer to the floor-to-ceiling windows and the private outdoor deck, while the former dining room will now hold a den/library/media room with a queen-sized sleeper sofa and closet. With a new shower added to the guest powder room, the space can function as a second bedroom, ideal for families and couples traveling together. The Penthouse also features a spacious living room and butler's pantry with private entrance.
The master bedroom will be made over with luxurious bedding, curtains, two entrances, and a new seating area. The master bath will feature marble, mosaics, a walk-in glass shower, and two waterproof Aquavision TV's, one embedded in the mirror, and one by the large window-side Jacuzzi tub.
In keeping with modern tech living, the CP's will feature three flat screen TV's, including a 3-D TV, plus a surround sound audio system, iPod docking stations, and increased wall outlets.
With more than 700 different jobs scheduled to be completed during the 13 days, the 500+ contractor crew and several hundred Crystal crew will also be working round-the-clock to thoroughly deep clean the ship, repaint exteriors, refurbish the "port pod," add energy-saving LED lighting in public areas and crew offices, and more.
Crystal Serenity's first voyage after completing dry dock will be a 12-day November 27 Lisbon-Barcelona cruise through the Canary Islands, followed by Transatlantic crossing to the Americas, a Christmas/New Year's voyage in the Caribbean, and the annual World Cruise – an 89-day ultimate luxury adventure from LA to London, starting January 18.