A new report from social media analyst BirdSong highlights a lack of presence from major cruise lines active on Twitter.
A survey of 40 major cruise lines found adoption of Twitter, and the resultant audience size lagging far behind that of Facebook.
Of the cruise lines active on Facebook, seven have over half a million fans, with the top four cruise lines all having over 1 million fans.
Cruise Lines on Facebook: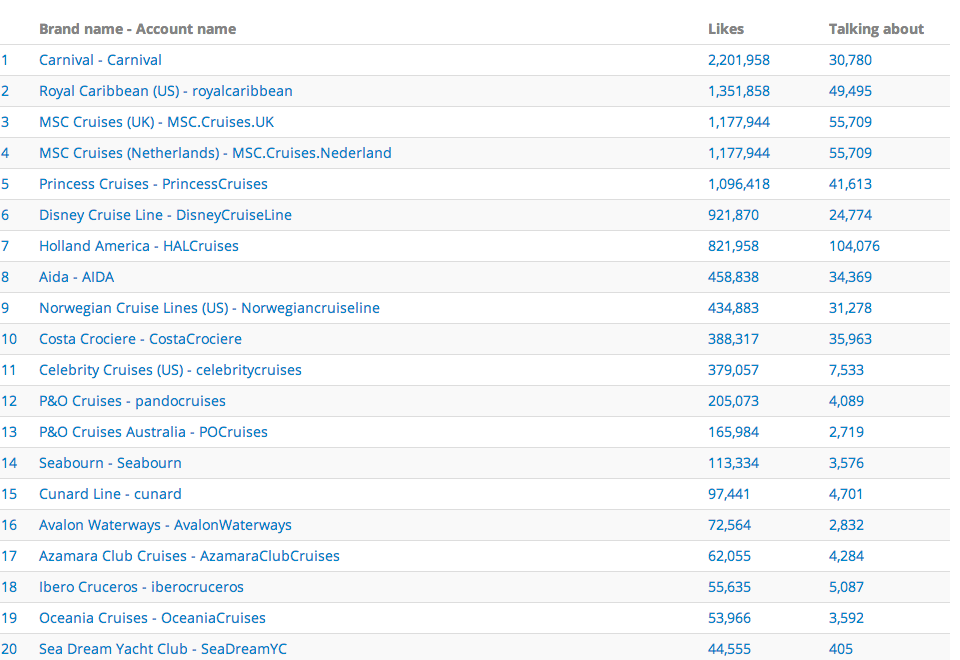 By stark contrast, Disney Cruise Line, the most popular cruise line on Twitter has just 102,000 followers, a tenth of its Facebook audience.
Cruise Lines on Twitter: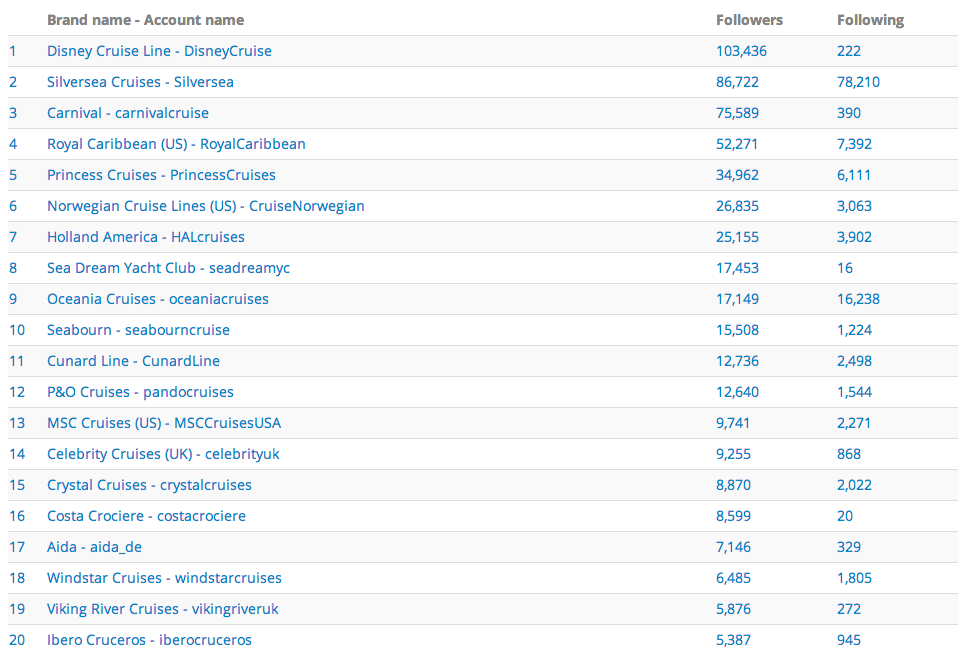 So why is the audience so different?
Facebook is by far the biggest potential audience with 1 billion active users to Twitter's 200 million.
A recent survey from BirdSong highlighted a lack of attention given to Twitter by the cruise lines.
The BirdSong Presence Ccore measures how well a brand is active or "present" on Twitter. By measuring a number of key data points, including number of tweets, frequency and type of tweets the score can benchmark an industry's presence on Twitter.
The benchmark Birdsong Presence Score for the cruise industry was a low 19/100.
The most active brands were not the most followed.
Princess Cruises and Cunard Line topped the list with scores of 54 and 51 respectively.
They were also the only cruise lines to achieve a presence score over 50.
To put such a score into the wider travel industry perspective, the Presence Score for @VirginAtlantic was 67 percent and @Avis percent.
A low presence score indicates a brand that is not actively using Twitter and therefore potentially missing out on a bigger opportunity to grow an audience base with whom to engage with, listen to and promote offers.
Most cruise line accounts tweet less than once a day, making their tweets potentially invisible to most of the audience unless they were on at the exact moment the tweet was sent, according to the study.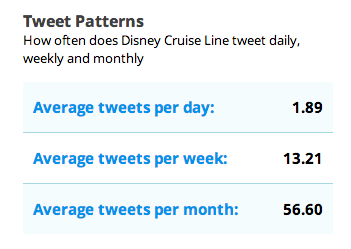 Smaller cruise lines, that could benefit from a Twitter audience are being sporadic about their updates. Voyages to Antiquity, for example, has only tweeted 9 times since opening the account in February 2011.
The cruise lines were also not maximizing references to their ports of call, ship names or the phrase 'Cruise'.

Twitter, and social media in general has real potential to become an important and complimentary channel for marketing. brand awareness, customer feedback and engagement.
Whilst Facebook is the largest network, Twitter is growing in opportunities and relevance.
The growth in Twitter search may soon become an important 'search engine' for consumers looking for cruises or reviews.
The operators that are most active in this space will be the ones to gain the greatest advantage.