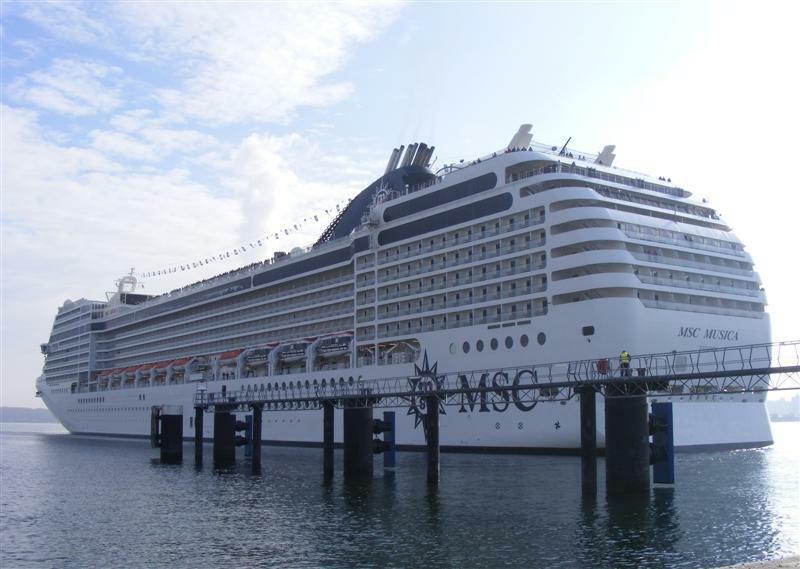 Today and for the very first time, the MSC Musica arrived in Kiel – its hub for this year's summer season.
The ship operated in South America during the winter months. This time, the Port of Kiel is the final destination of a transfer cruise which started 21 days ago in Buenos Aires (Argentina). The Mayor of Kiel, Dr Susanne Gaschke, welcomed the ship, passengers as well as the crew at the traditional "Plaque and Key Ceremony" and handed over the Maiden Call Plaque to Captain Pierpaolo Scala.
Dr Susanne Gaschke said: "We are proud of Kiel being an important hub for MSC Crociere this year again. With its modern terminal facilities, first-class service and smooth accessibility, Kiel is an ideal turnaround port for German and European guests."
This year, MSC Crociere is visiting the Ostseekai with two large ships – the MSC Poesia and MSC Musica. All in all, they offer 41 cruises starting in Kiel.
In total, the MSC Musica offers 21 cruises from Kiel this season and is awaited for passenger turnaround at Ostseekai on September 8 for the last time. The cruises through Northern Europe will take the MSC Musica to the big cities of the Baltic region as well as along the Norwegian Fjords this year.
Dr Dirk Claus, Managing Director of SEEHAFEN KIEL GmbH & Co. KG added: "Due to its geographic location, Kiel is the ideal starting point for butterfly cruises. The combination of Baltic Sea and Fjord routes is a very interesting option for travellers."
However, Kiel is not only a turnaround port but also a touristic destination. Versatile excursions from Kiel to the sites of Northern Germany are offered to those MSC passengers who already embark in Copenhagen.
Claus continued: "The touristic destination Schleswig-Holstein has a lot to offer. The shipping company MSC counts to our most important customers also regarding stop-overs."
SEEHAFEN KIEL GmbH & Co. KG operates the trade port of Kiel by public contract with the state capital city of Kiel. The three ferry and cruise terminals Ostseekai, Norwegenkai and Schwedenkai are located right in the city centre.
The Port Parking Service was extended at the beginning of the season offering a broader range of choice to passengers arriving with their own car. With 128 calls by 21 different cruise ships, Kiel is one of the most famous German turnaround ports for cruises once again this year. Regular customers of the port are the vessels of the shipping companies AIDA, Costa, MSC and TUI Cruises as well as other well-known German providers.
Until the end of season, 370,000 cruise passengers will be welcomed in Kiel on top of the approx. 1.5 million ferry passengers. In order to meet the development of the market, Kiel will further adapt its terminal capacities. At the moment, Berth No. 1 in Ostuferhafen is redesigned in such a way that very big cruise ships with high passenger capacity can dock there.