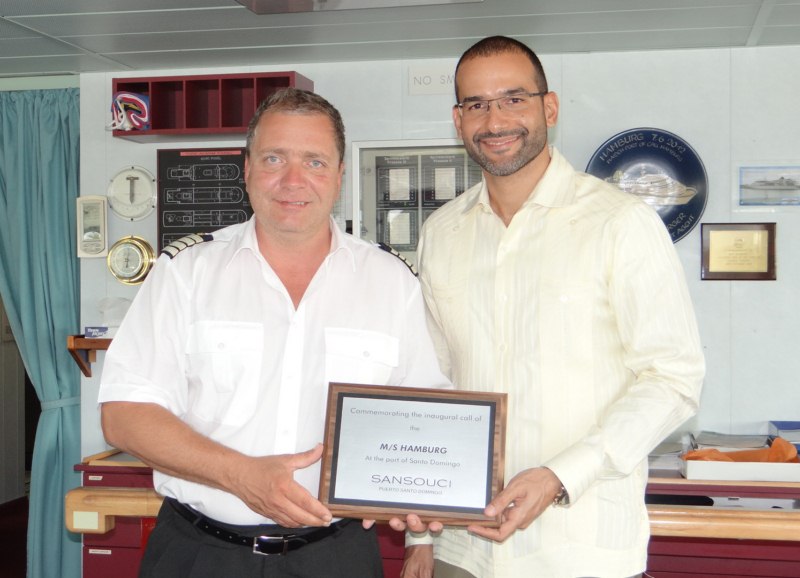 The Hamburg called for the first time at the Port of Santo Domingo earlier this year, coming from the Bahamas sailing for German operator Plantours.
With 340 passengers onboard, most of German nationality and represented by AgenciaNaviera B&R, thie voyage will visit Bahamas, Puerto Plata, Santo Domingo, Santiago de Cuba, Montego Bay, Cienfuegos, Pinos Island and Havana.
This ship is 144 meters long and 15,067 gross tons and can accommodate up to 400 passengers in 197 cabins and eight suites, featuring six passenger decks where you can find all the standards expected of a cruise ship with reduced dimensions.
As part of the traditional ceremonial event, at the inaugural call, an exchange of plaques took place, which was led by Jaime Castillo, Executive Director of Sans Souci Ports and the German Ship's Captain Philipp Dieckmann.
The ceremony took place at the Sansouci Terminal onboard of the vessel, where Castillo and Dieckmann dialogued and thanked the shipping line for choosing Sansouci, Port of Santo Domingo as a destination for provisioning. Castillo invited to continue deploying arrivals to this port.
While in Santo Domingo, the cruise passengers enjoyed the new exclusive tours available. In addition, various amenities prepared by Sans Souci Ports for the occasion were displayed in the Terminal: tastings, folk dances, local artisans and shops, among other facilities.