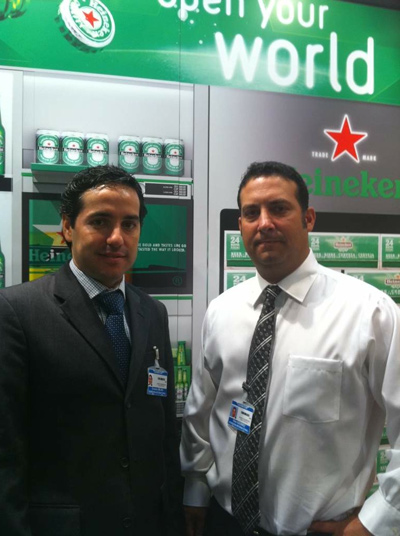 Heineken has announced the appointment of Ernesto Milan as Duty Free Sales Manager – South America, a pivotal role in the strengthening of the Heineken team in the Americas as it targets to double its business in the top performing region of 2012, driven principally by growth in the premium beer segment.
Milan, with over 12 years experience of the industry at CCM Mexico (Heineken Mexico), before joining Heineken Duty Free this year, brings in-depth understanding of the region's market, including extensive experience of Heineken's Mexican portfolio (including Dos Equis, Tecate and Sol). Heineken's 2012 link-up with CCM has facilitated a more sharply focused duty free strategy, including a significantly enhanced presence with the newly combined portfolio of powerful brands.
In his new role, based in Monterrey Mexico, Milan will drive the growth of the cornerstone Heineken brand alongside the Mexican portfolio as part of a committed growth across the Americas over the next 12 months, focusing particularly on the South American and border business.
That strategy will be further strengthened with a specific approach to the cruise channel led by a dedicated Sales Manager operating from the US. Alex Godinez, who joined from the company's domestic business in the US, provides special focus on Heineken's strong opportunities for portfolio growth in the cruise sector, from his base in Miami.
Carlos Candeias, Global Account Manager Heineken, explains how growth in the Americas will be driven by the combination of a strengthened team and an expanded portfolio of appealing brands: "Building from a base of over 6% growth in the Americas in 2012, these appointments signal our determination to attack a number of key opportunities in our market. At Heineken, we have a unique portfolio that meets the needs of consumers eager to discover a wider variety of international and specialty brands and that also injects new energy into the category while providing our customers with higher margin brands. As we continue to grow our popular established regional brands such as Dos Equis, Carta Blanca and Tecate we are also injecting dynamism into the category through the innovation excitement from other parts of the world – such as Tiger, Krusovice and Affligem. We are creating fantastic opportunities for our customers to share in our sales growth, especially through the premium choices we offer for consumers to trade up in keeping with the growing demand we see in the Americas for a broader global brand portfolio.

"Our expanded team provides an enhanced focus on Duty Free, including added support for our customers, and we see exceptionally strong opportunities for growth in the cruise and border channels. We are set on a path to double our market by partnering with them in our passion for quality and innovation as we drive category growth together."


As part of that enhanced focus Heineken is providing stronger support to its customers to help drive shared performance. In the Cruise sector, for example, this includes a number of specialist training programs for staff members to develop their beer and serve skills and also to empower bar tenders as brand ambassadors capable of delivering the best possible pour experience thanks to Heineken's unique Star Serve training.
Also, in attacking the border stores opportunity, Heineken's team is providing operational support in duty free tailored specifically to the customer footprint and sees particularly strong opportunities for growth not only on the US-Mexico border but also across a number of other countries too, including Panama, Uruguay and in Brazil with the upcoming major sporting tournaments of the next few years.
The strengthening of the Americas team underlines Heineken's confidence in the range, quality and appeal of its uniquely well-balanced brand portfolio. Heineken's extensive insight program demonstrates that consumers are seeking a broader choice of brand options and are especially drawn by the quality, heritage and cosmopolitan appeal of international brands. Building on the powerful platform of the Heineken brand, the portfolio provides a vibrant range of appealing international options, from the vitality of the recently acquired Tiger beer from Asia to the classic appeal of European beers from England, Portugal and the Czech Republic.
Alongside these relatively new arrivals, Heineken believes that its popular range of Mexican beers, underpinned by stronger promotional programs and ever-closer working with customers in a shared approach to growth, will make these brands the key drivers of improved performance across the region. Heineken is further driving this growth strategy with a number of major promotions throughout the year including 'Taste the World' spotlighting specific brands to increase consumer trial supported by high visibility promotional units.