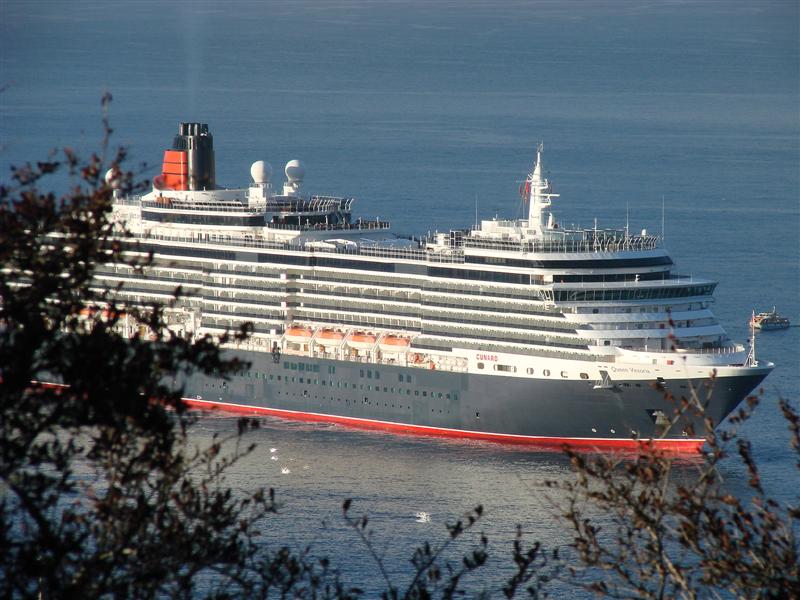 Cunard Line today announced full details of its 2014-2015 cruise program, featuring a markedly increased presence in the Mediterranean, new land tours, special Transatlantic Crossings, and celebratory events to mark the 10th birthday of flagship Queen Mary 2.
The new program commences in spring 2014, following the return of Queen Mary 2, Queen Elizabeth and Queen Victoria from their extensive 2014 World Voyages.
"2014 is the year to travel on a Cunard Liner," said Peter Shanks, president of Cunard Line.
"The 10th anniversary of Queen Mary 2 provides a unique opportunity to experience crossing the Atlantic in a celebratory fashion. In addition, our new 2014 itineraries offer variety, providing access to the most celebrated regions of the world."
Shanks continued, "Each guest's Cunard cruise experience is amplified by our reputation for superior White Star Service and world-class amenities."
Queen Elizabeth in the Mediterranean
The Queen Elizabeth will be deployed to the Mediterranean, with more than 70 departure combinations are available that run from June to December 2014 with the choice of seven-, 14- or 21-night itineraries on board the youngest Cunarder.
The attractive Mediterranean offerings include 25 different ports including Monte Carlo, Corfu, Mykonos, Naples, Dubrovnik and Livorno, as well as overnight stays in Istanbul, Turkey and Venice, Italy. In addition, Queen Elizabeth will have seven maiden calls including Elba, Italy; Kotor, Montenegro; Bodrum, Turkey; Volos, Greece; Palermo (Sicily), Italy; La Goulette, Tunisia; and Toulon, France.
Fares for the following voyages start from:
• Seven-day Pearls of the Adriatic (Rome to Venice): $999
• Seven-day Italian Serenade (Athens to Rome): $1,099
• Seven-day Mediterranean Discovery (roundtrip Rome): $1,099
• Seven-day Aegean Interlude (roundtrip Athens): $1,249
• 14-day voyages created by adding combinations of two seven-day voyages: $1,899
• 21-day voyages created by adding combinations of three seven-day voyages: $3,099
Queen Elizabeth's grand art deco interiors and unique works of art, which pay homage to both the original Queen Elizabeth and Great Britain's Royal Family, continue to fascinate and delight guests who sail aboard the Line's newest Cunarder.
The ship's Grand Lobby prominently displays the 18.5 ft. marquetry piece of the original Queen Elizabeth created by David Linley, the only nephew of Her Majesty The Queen, and a specially commissioned portrait of The Queen created by artist Isobel Peachey especially for the liner's 2010 debut.
Queen Mary 2 Celebrates 10th Anniversary
Throughout 2014 the Queen Mary 2, will celebrate her 10th Anniversary and will continue to provide her legendary Transatlantic Crossings between New York and Southampton, as well as Hamburg, with 17 regularly scheduled Crossings from May through June 2014. In honour of her anniversary, the following voyages are scheduled:
• Two eight-night Transatlantic Crossings with a stop in Halifax (Nova Scotia, Canada) to celebrate Cunard's transatlantic heritage. Halifax was the line's original east coast port of call and the birthplace of company founder Sir Samuel Cunard
• Two "Birthday Crossings" to celebrate the 10th Anniversary of Queen Mary 2 – which will include a host of special events and celebrations – from Southampton to New York on 9 May, and New York to Southampton on 16 May
• Three Queens event in Southampton on 9 May to celebrate the 10th Anniversary
• Ten Transatlantic Crossings between Hamburg and New York, featuring optional two-night escorted tours of Hamburg and Berlin
Queen Mary 2 will also sail her popular Americas and Caribbean voyages. Fares for these roundtrip sailings from New York start from:
• 4th of July Independence Day Celebration cruise with Boston fireworks: $1,349
• 12-night Caribbean Fiesta Holiday and New Year celebration: $2,399
• 12-night New England and Canadian Sojourn: $2,599
Fares for the following additional voyages start from:
• Seven-day Transatlantic Crossings: $1,199
• Eight-day Transatlantic Crossings: $1,549
• Nine-day Transatlantic Crossings: $1,749
• 10-day Transatlantic Crossings: $1,849
• 28-day Grand Norwegian Explorer: $4,699
The above Transatlantic Crossings offer leisurely time to explore the ship's extensive on board amenities and activities, including lectures through the award-winning Cunard Insights program; stargazing in the only planetarium at sea; white-gloved afternoon tea served in the Queens Room or a spin around the dance floor during a Royal Nights themed ball; taking in a performance or workshop by members of the Royal Academy of Dramatic Art; or perusing 8,000 volumes in the largest library at sea.
Europe with Queen Victoria and Queen Mary 2
Based in Southampton for summer 2014, Queen Victoria will sail a range of voyages to the Norwegian Fjords, Baltic cities, Mediterranean shores, Atlantic Islands, Black Sea and Turkish ports, and maiden ports, including Invergordon, Scotland; Kirkwall, Scotland; Mytilene, Greece; Skagen, Denmark; St. Peter Port, Guernsey; and St. Tropez, France.
Queen Victoria will sail Around the British Isles roundtrip from Southampton to South Queensferry, Invergordon, Kirkwall and Greenock in Scotland; Dublin, Cobh in Ireland; and St. Peter Port, Guernsey, with an overnight stay in Liverpool to coincide with the Aquitanian Maiden Voyage 100th Anniversary commemoration.
Fares for the following voyages start from:
• Seven-day Fjords and Waterfalls: $1,599
• 13-day Around the British Isles: $2,699
• 14-day St. Petersburg and Baltic Discovery: $2,999
• 14-day Royal Viking Adventure: $3,199
• 14-day Geysers and Glaciers: $3,199
Queen Mary 2 will again venture to Northern Europe offering sailings from Hamburg and Southampton, including the Arctic Circle Adventure which travels to these Norwegian cities: Bergen, Andalasnes, Trondheim, Tromso, Alesund and Stavanger, unlocking the majestic beauty and wonder of the Fjords.
Fares for the following voyages start from:
• Eight-day Northern Discovery: $1,499
• 11-day Arctic Circle Adventure: $2,699
• 13-day Norwegian Explorer: $2,199
New Land Tours in Classic Cunard Destinations
To add to the new itineraries, Cunard Line is launching a series of exclusive shore excursions designed to enhance classic destinations where Cunard ships travel. Highlights from select new excursions include:
New York: Exclusive Macy's Fashion Breakfast – Gain access to the store before opening hours for an exclusive shopping experience that includes a 10% discount, a tour of the store with special facts about the flagship location, a fashion preview from a Macy's stylist of the hottest styles from around the world, and breakfast for fuel for the day.
London: England's Christmas Capital – Enjoy two nights at The Langham London, followed by two nights at Lainston House in Winchester. Included: a Regent Street Association Discount Card (one per room) with a discount in Regent Street's glamorous shops, a panoramic tour of London ending in Harrods, followed by a festive afternoon tea. Visit Windsor on the way to Winchester, relax at Lainston House set in the countryside, and enjoy a three-course meal with complimentary bottle of wine (one per room) and delicious complimentary homemade Christmas pudding. The package includes a morning "beat the crowds" visit to the famous Winchester Christmas market and a guided tour of the Cathedral, followed by a blessing from a member of the clergy, mince pies and mulled wine.
London: VIP Royal Tour of London – Enjoy highlights of the ultimate London experience with a private viewing of the Crown Jewels, guided tours of the Tower of London and Westminster Abbey, along with a viewing of the changing of the Guards and lunch at a traditional pub. This package also includes a two-night stay at the five-star Goring Hotel.
Hamburg: Berlin Highlights Tour – Take in the largest city in Germany through a multi-stop tour of the city's historic highlights, including Schloss Charlottenburg Palace, outside tours of East-Side Gallery and Check-Point Charlie, as well as an orientation tour of Reichstag, Brandenbrug Gate, Tiergarten and the Tauentzien Street shopping district. Also included is a hotel stay at the five-star Steigenberger Hotel and lunch at a traditional German restaurant on the first day.
World Club members enjoy an additional savings of 5% off launch fares, available to guests who book by 31 August 2013 for all summer 2014 and winter 2015 voyages. Offer is not applicable to third- and fourth-berth guests.