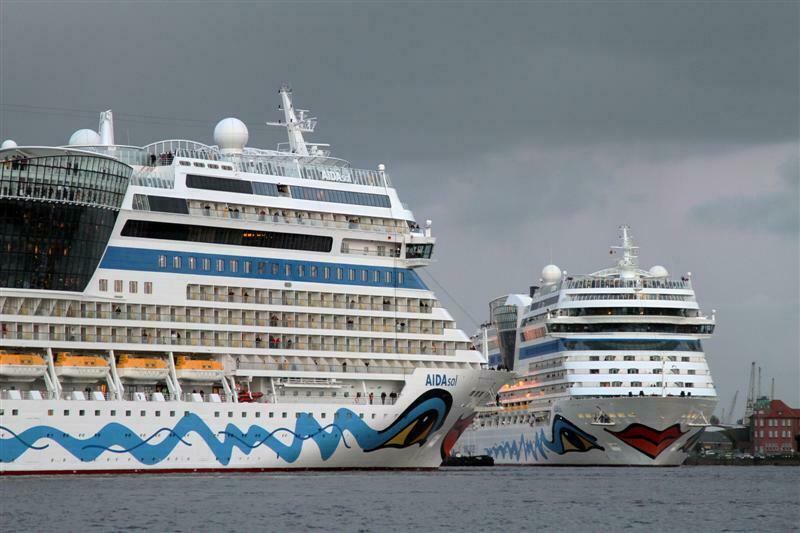 Cruise Lines International Association (CLIA) today announced the establishment of CLIA Germany at the world's biggest tourism fair ITB Berlin 2013. The new national association will be headquartered in Hamburg and will be chaired by Michael Ungerer, CEO of AIDA Cruises. This follows CLIA's 30 January announcement of its expanded resources in Europe with CLIA Germany joining CLIA UK and Ireland and CLIA Netherlands as a part of CLIA's newly established global structure.
Manfredi Lefebvre d'Ovidio, chairman of CLIA Europe, said: "We are very pleased to announce the establishment of CLIA Germany as part of CLIA's new worldwide structure," in his keynote speech, which introduced ITB's Cruise Panel. "With the establishment of a German national association, the cruise industry can better support its members locally and ensure they benefit from CLIA's global programmes in the second largest cruise market in Europe, one which has experienced substantial growth in recent years with the number of passengers growing from 1.2 million in 2010 to 1.4 million in 2011, a year-over-year increase of nearly 14 per cent."
"The establishment of CLIA Germany further expands our presence in Europe, one of the most important markets for the global cruise industry," said Christine Duffy, president and CEO of CLIA. "With a significantly enhanced presence in Europe the cruise industry has never been better positioned to speak with one global voice."
CLIA Germany's leadership council will be led by Ungerer, Michael Zengerle, managing director of MSC Cruises Germany as vice chairman, and Helge Grammerstorf, managing director of SeaConsult, as national director. As part of CLIA's unified structure, along with German cruise lines, all relevant European regional and global association members will have membership on CLIA Germany's leadership council. Additionally, ex-officio seats will be provided to German Travel Association, German Shipowners Association, and the CLIA Europe secretary general.
CLIA Germany will be focusing extensive energies on strengthening its relationships with the travel agent community and the German Travel Association. Given this emphasis, Richard Vogel, CEO of TUI Cruises, who also serves as chairman of the German Travel Association's Cruise Section, will be the cruise industry's primary liaison to the travel agent community.
About the officers and staff:
Michael Ungerer, CEO AIDA Cruises, has held various positions in the marine tourism and hotel sectors. From 1993 to 1994, he was hotel director on the S/S Norway. He subsequently held executive positions with the Sonesta and Ritz-Carlton hotel chains before he took over the guest services department at AIDA Cruises in February 1997. He studied business management in Innsbruck and at the London Business School, as well as Hotel and Tourism Management at Schloss Klessheim , near Salzburg.
Michael Zengerle, managing director MSC Cruises Germany, started his career in 1990 at the Lufthansa AG in Frankfurt. From 1992 till 2011 he held several management positions in sales and marketing before he became managing director of the Euvia Travel GmbH. In 2002 he joined Norwegian Cruise Line as general manager for the continental European market. Recently he was general manager Europe at NCL till April 2011. In June 2011 Zengerle became managing director MSC Cruises Germany.
Richard J Vogel, CEO TUI Cruises, has been the chief executive of TUI Cruises GmbH since its formation in April 2008. He gained his first experiences in the tourism industry in 1984 in club hotels and after working as the manager of the ITC Club Calimera, he moved to the cruise business. In 1996 he was appointed managing director of Arkona Reisen, where he played a key role in bringing about and marketing the AIDA club ship concept. Richard J Vogel joined the TUI Group on 1 June 2005. In his position as director special projects he developed the strategy for entering the cruise volume segment before subsequently founding TUI Cruises in April 2008.
Helge Grammerstorf, managing director SeaConsult, started his career as an ordinary seaman and assistant officer. Finishing his study with a dissertation about "Financing of Cruise Vessels" and a final degree as captain and certified commercial engineer, he sailed onboard several cargo and passenger vessels in international services. After some years at sea he returned to working at land, following career stages at several shipping companies. Subsequently he was managing partner of Hanseatic Cruises and managing director of Deutsche Seetouristik, Rostock, and Arkona Reisen, Frankfurt, where he worked on introducing the first club vessel AIDA. Since 1997 Grammerstorf is managing owner of SeaConsult HAM GmbH, a consulting and research firm specialised in international cruise business and financing of cruise vessels.