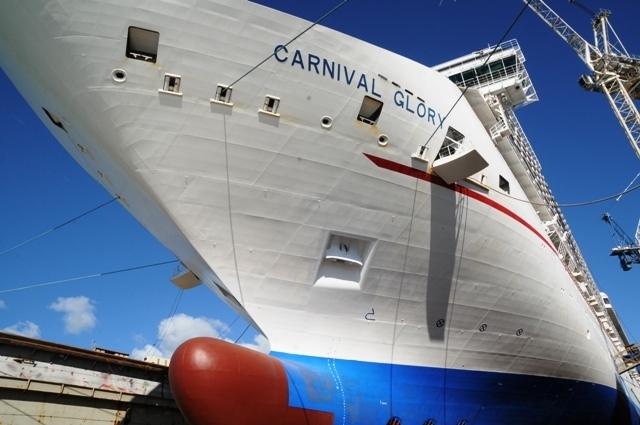 When 2012 came to a close, some 22 cruise ships had been worked on at Grand Bahama Shipyard over the course of the calendar year.
Highlights during the fall season included the addition of the "Captains Cabins" on the Carnival Conquest and Glory – above the bridge.
These projects were managed by the yard, which performed the structural fabrication and installation work and oversaw the interior outfit, which was completed by Ellevi.
On the technical side, general repairs were made and two chiller units were renewed on each vessel.
Fincantieri
Fincantieri saw the Costa Favolosa in for a routine drydocking late in 2012, as the ship followed the Silver Cloud, which was at one of Fincantieri's yards for a major refurbishment.
Also spending time at Fincantieri last year was the Saga Sapphire, for her Saga Cruises conversion, the MSC Splendida, Ocean Princess and Costa Magica.
The yard added some 20 new suites to the Saga Sapphire, with balconies, and 60 French balconies to existing cabins.
The MSC Splendida received two new lifeboats and davits, along with new liferafts and 18 additional crew cabins.
Star Projects
Star Cruises just wrapped up a major $50 million refit of the ex-Norwegian Dream at Sembawang Shipyard in Singapore.
The vessel emerged as the SuperStar Gemini, with capacity for 2,156 passengers.
The ship was completely overhauled with upgraded navigational systems, a new hull design and onboard facilities, including cabins, restaurants, entertainment, recreational venues, and retail outlets.
Meanwhile, Star also drydocked the smaller, 80-passenger MegaStar Aries this past winter for a refurbishment. The ship is available for charters.
Saga and Fred. Olsen at Lloyd Werft
Lloyd Werft continued its busy fall with a pair of Fred. Olsen Cruises ships. The Braemar was in the drydock in November for extensive maintenance and repair, including the complete overhaul of her stabilizers and work on both rudders.
The funnel deck on the ship was doubled in size, and work was carried out on the ship's piping system in addition to steel work.
In December, the slightly bigger Balmoral drydocked for eight days, with work including the installation of a catwalk, the exchange of main engine bearings and the dismantling, overhaul and reassembly of the double-rudders.
The classic Saga Ruby also spent time in the drydock at Lloyd Werft, from November 15 through December 4.
Excerpt from Cruise Industry News Quarterly Magazine: Winter 2012-2013