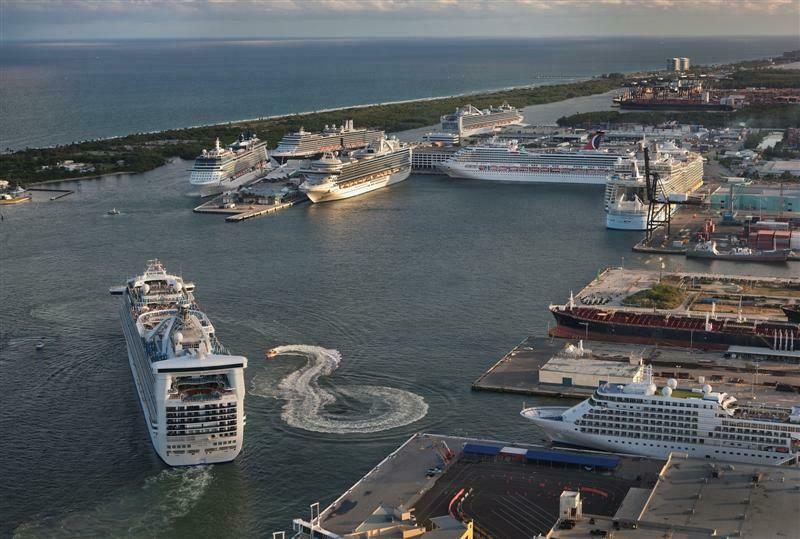 Florida ports are expecting a record year, while continuing multi-million dollar projects to upgrade and enhance terminals, piers and related infrastructure to keep up.
Driving the continued growth are new ships and some ship shuffles between the competitive ports.
Also supporting growth is Florida's attraction as a tourist destination, as well as the state's own strong home market, and its proximity to the Caribbean and a variety of year-round, stable itinerary options.
Thus, about one third of all the cruises globally sail out of Florida ports, according to Cruise Industry News estimates.
Supporting the industry and driving business is Miami itself, commented Bill Johnson, port director at the Port of Miami. He cited the local offerings of culture, professional sports, night life, shopping and beaches, "with easy access through one of the most modern airports in the world." He said that a $7 billion retrofit program of the Miami airport had just been completed.
The Port of Miami is on track to host some 5 million passengers by 2020, according to Johnson. He said at press time that Miami expected to report approximately 4 million passengers for its 2012 fiscal year, after four years of exceeding 4 million. The forecast for this year is for 4.3 million and then 4.5 million for 2014.
Contributing to the growth is Regent Seven Seas Cruises, which moved its offices to the port last year, and will sail about 60 cruises from Miami this year, along with sister company Oceania Cruises. The Disney Wonder has also launched service from Miami, and in the fall the MSC Divina will start seasonal Caribbean cruises.
In January of 2014, the Norwegian Getaway will be joining the Miami-based fleet, sailing year-round.
In Port Everglades, Steven Cernak, CEO and port director, said that his goal is to be a step ahead of where the industry is going.
"I am working for positive growth," he said, "sustaining what we have and developing more business."
For its 2012 fiscal year, ended Sept. 30, Port Everglades expected to post a total of 3.66 million passengers (the number had not been finalized at press time), down slightly from 3.95 million in 2011, which Cernak attributed to a one-day ship ceasing operations. However, he said, the number of multi-day cruises were up year-over-year.
Cernak said the challenge is to keep up with the cruise lines, providing a modern and pleasant guest experience. The port's state-of-the-art example is Terminal 18 for the 5,600-passenger Oasis and the Allure of the Seas every Saturday and Sunday. Despite the volume of passengers, Cernak said it takes less than 15 minutes on the average to go from the sidewalk, through the check-in procedures, to being on the ship.
Terminals 2, 9, 21 and 26 were also renovated and enlarged during the year to be ready for the first eight-ship day of the season on Nov. 17.
The Port of Tampa also reported record passengers for its fiscal 2012, with 974,259 – up 11 percent from the previous year. The new year started fast and furious with a new single-day record on Nov. 11 with three ships and 13,104 passengers embarking and disembarking, according to Wade Elliott, senior director of marketing. He attributed the growth to an "earlier start on the busy winter season."
With five ships homported during the winter season, Elliott said: "We still have space during the weekends for more ships. We are in discussions with other customers to have them add Tampa calls, but would also like to see our seasonal lines expand to year-round sailings.
"The cruise business is an important part of our activities," Elliott said. "Tampa's strength is that a lot of people know us as a cargo port. Forty percent of all the cargo moving in and out of Florida goes through Tampa. But diversity is important and cruise plays an important role. It allowed us to stay financially strong during the recession."
Last year, Tampa completed $3.5 million worth of upgrades, including a new passenger bridge and terminal canopy for Terminal 6 and aesthetic enhancements for Terminal 3.
Port Canaveral set a new record for multi-day passengers in 2012 with 3,761,056, up 21 percent from the previous year, according to a spokesperson. She explained that there 115 additional calls in 2012 over 2011.
This past fall, the port opened a new $60 million, 90,000 square-foot port terminal complex. The primary user of the new facility is Carnival, which expects to carry 800,000 passengers from Port Canaveral this year. Carnival operates three ships from the port.
Also sailing from Port Canaveral are Disney Cruise Line's two new ships, the Dream and the Fantasy.
Excerpt from Cruise Industry News Quarterly Magazine: Winter 2012-2013