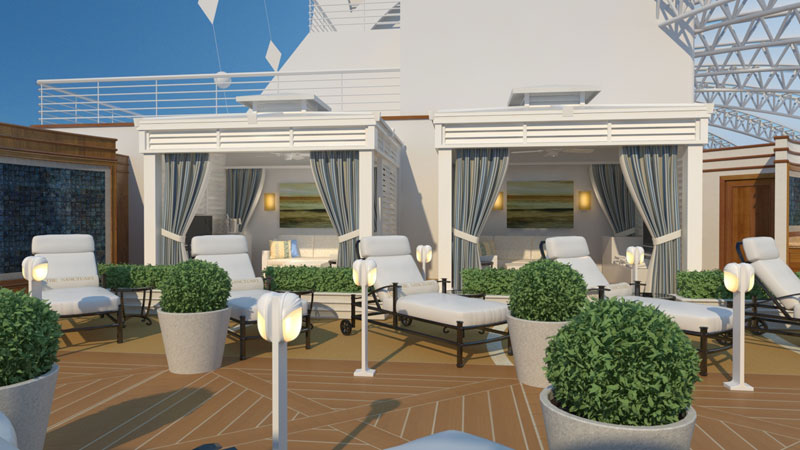 When Princess Cruises' new Royal Princess debuts next June, passengers will find that two of the line's signature features have been enhanced to provide passengers with relaxation. Both The Sanctuary and the line's popular adults-only pool also will offer private cabanas for the first time.
Located near the forward end of the top deck, these two areas together provide a peaceful haven for passengers looking to recharge. With a new look and feel, the larger Sanctuary will feature fresh décor plus two new private cabana options along with its plush loungers and Serenity Stewards. Meanwhile, the Retreat Pool will provide a serene spot for a dip, along with its new poolside cabanas.
"The private spa-inspired setting of The Sanctuary and the calm atmosphere of our adults-only pools have made them among the more popular areas on our ships," said Jan Swartz, Princess Cruises executive vice president. "So aboard Royal Princess we're taking both of these areas and giving them a new twist."
The three new private cabana options will give passengers the opportunity to personalize their relaxation time, with elegant Sanctuary and Lotus Spa cabanas in The Sanctuary, while the Retreat Pool offers poolside cabanas, perfect for enjoying an extra special day at the water's edge. Cabana guests looking for a gourmet treat can order one of the ship's new cabana picnic baskets, packed with artisan edibles paired with a premium wine.
Both areas are detailed in the company's latest video previewing Royal Princess, available at princess.com/royalprincess.
The Sanctuary – This oasis of tranquility will feature all the special touches that have made The Sanctuary so popular since it was first introduced on Crown Princess in 2006, plus a number of new features. With a 20 percent larger space than on the line's other ships, The Sanctuary adds four private Sanctuary Cabanas for more luxurious experience, plus two Lotus Spa Cabanas offering an elegant private space for a range of spa treatments. Featuring the air of a romantic hideaway under its distinctive white canopy cover, The Sanctuary design includes strategically placed rock gardens and special topiary planting with atmospheric lighting. These new elements create an inviting path leading to a new central pavilion. Passengers can relax on luxurious plush lounge chairs or circular daybeds, while Serenity Stewards provide healthy refreshments and music players with peaceful music. Space in The Sanctuary can be reserved for $15 for a half day/$25 for a full day, per person.
Sanctuary Cabanas – Within The Sanctuary, four new Sanctuary Cabanas offer an even more exclusive and special experience with amenities such as a personal television with noise-reducing wireless headphones, cushy sofas, luxurious robe and slippers, a welcome cocktail, and healthy snacks including nuts, and dried and fresh fruit. The cabana also features a fully stocked mini-bar with refreshing waters and sodas, as well as a choice of alcoholic options, including beer or wine. Sanctuary Cabanas will be available beginning at $80 for a half day.
Lotus Spa Cabanas – The two new, luxurious Lotus Spa Cabanas offer a truly special alfresco massage experience. These larger, enclosed areas will offer added privacy, a comfortable resting area with a television and plush chairs, a treatment area with two massage tables for a refreshing couples massage and beautiful ocean views looking out over the front of the ship. A variety of packages will be available for the Lotus Spa Cabanas.
Retreat Pool – Adjacent to The Sanctuary, the Retreat Pool will offer an exclusive area for adults to relax and rejuvenate. The Retreat Pool on Royal Princess will offer more space and seating than the adult pools on other Princess vessels, plus add new Retreat Cabanas that can be reserved for an enhanced experience. These cabanas are the perfect way to enjoy private space poolside, or even add the indulgence of one of the ship's special picnic baskets. The Retreat Pool is open to all adults, and Retreat Pool Cabana rental will be available beginning at $50 for a half day.
Cabana Picnic – Passengers reserving a cabana in The Sanctuary or the Retreat Pool can not only enjoy the privacy and relaxed atmosphere, but can also pamper themselves with a gourmet picnic featuring a premium bottle of wine paired with a gourmet feast of antipasti, artisan sandwiches, pizza and even fresh-baked desserts. Picnic items passengers may find in their basket include Young Spinach Salad with Stilton Crumble, Pancetta Chips, Toasted Pecans and Black Pepper Vinaigrette; Ahi Tuna Poke with Hass Avocado, Red Onions, Sesame Seeds and Crisp Wonton Skins; and Alfredo's Surf & Turf Pizza with Lobster Medallions & Beef Tenderloin. Baskets serving two people will begin at $40.