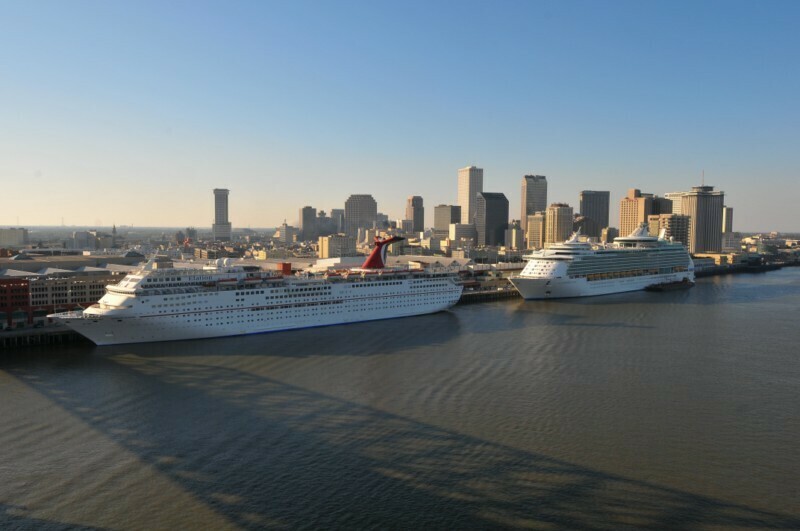 The Port of New Orleans welcomed two new home-ported cruise ships over the last eight days and set a new Port record for passenger embarkations and disembarkations during a two-day span, as 24,705 passengers either boarded or disembarked four cruise ships and two sternwheelers Nov. 17-18.
"New Orleans is a favorite destination for the cruise industry and one of the fastest growing cruise ports in the United States," said Port President and CEO Gary LaGrange. "We market cruising from New Orleans as two vacations in one and passengers respond by staying an average of two days here either before or after their cruise."
On Nov. 11, Norwegian Cruise Line's 965-foot, 2,348-passenger Norwegian Star replaced the 2,018-passenger Norwegian Spirit as the cruise line's home-ported ship in New Orleans. The newer and larger vessel docks at the Port's newly renovated Julia Street Cruise Terminal. On Nov. 17, Royal Caribbean Cruise Line invested in a newer vessel in New Orleans as its Navigator of the Seas replaced the Voyager of the Seas. The 1,020-foot cruise ship has a capacity of 3,114-passengers and is the largest cruise ship ever to call on the Port. The Navigator of the Seas also calls on the Julia Street Cruise Terminal.
In addition to the two new seasonal cruise ships operated by RCCL and NCL, Carnival Cruise Lines operates two year-round ships from the Port's Erato Street Cruise Terminal – the Carnival Elation and Carnival Conquest – sailing four, five and seven-day cruises to the eastern and western Caribbean. American Cruise Line's sternwheeler Queen of the Mississippi embarked on a Mississippi River cruise from the Port Nov. 17 – sailing to inland destinations between New Orleans and Vicksburg, Miss., along with Great American Steamboat Company's American Queen, sailing a seven-day itinerary to Memphis, Tenn.
A recent study by Cruise Lines International Association, found the cruise industry accounted for $280 million in direct spending in Louisiana last year, up 35 percent compared to 2010. That impact generated 5,512 jobs and $211 million in income to the State of Louisiana. In 2011, the Port handled a record 736,908 passengers, which puts New Orleans in the top 10 of all cruise ports in the United States. Port officials expect the ranking and economic impacts to rise next year, as the Port is on pace to handle 1 million passengers by the end of 2012.
Recently, Port officials completed a transfer agreement with the U.S. Maritime Administration – transferring two berths at the Poland Avenue Wharf for construction of the Port's third cruise terminal just downriver from the historic French Quarter.