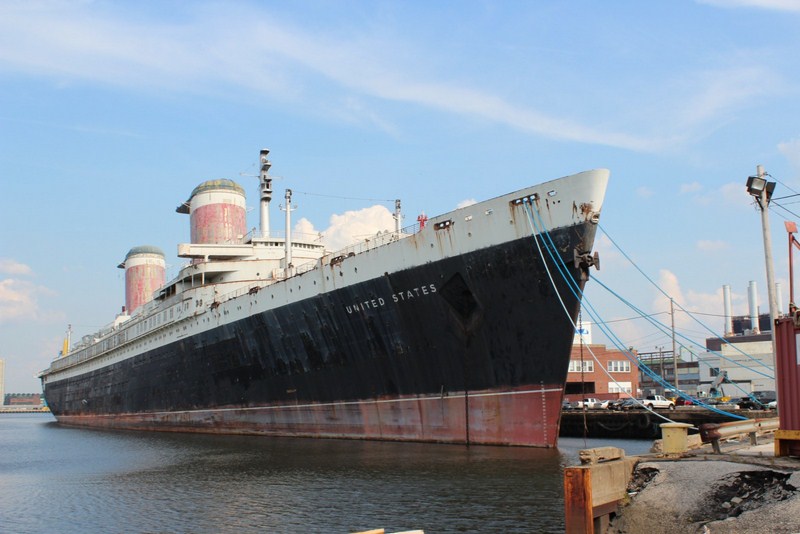 The SS United States Redevelopment Project has confirmed it has selected two finalists (of dozens of serious applicants) to submit full proposals to redevelop the classic ocean liner, currently tied up in Philadelphia.
"As previously reported, our RFP process began in April," said Dan McSweeney managing director of the S.S. United States Redevelopment Project. "Over 200 firms were contacted with news of our intention to re-purpose the SS United States as a permanently moored adaptive mixed-use development. Out of the dozen serious respondents, we have selected two finalists to submit full proposals and we are working closely with each to ensure comprehensive plans are presented to our Blue Riband Panel for review. A recommendation on the winning proposal will then be sent to the Conservancy's board of directors for their official selection."
According to the Project, there are two proposals in play.
The first: A proposal to site the ship next to the highly successful Harrah's Casino in Chester, PA offering a "synergistic approach" to the preservation of the ship. In this plan, the SS United States would house a hotel, dining facilities, event spaces, and a world-class museum. The ship would feature significantly in larger, ongoing community and economic development efforts in this historic city.
The second: A proposal to site the ship on the Hudson River in Midtown Manhattan that could tie into other major development projects occurring in this neighborhood.This plan would return the SS United States to her original home port in a complex featuring hotel, dining, retail, event space, state-of-the-art experiential museum, and other uses.The plan calls for maximizing green energy systems.
More news is expected by November.
Read Cruise Industry News' exclusive behind-the-scenes feature on the SS United States: click here.