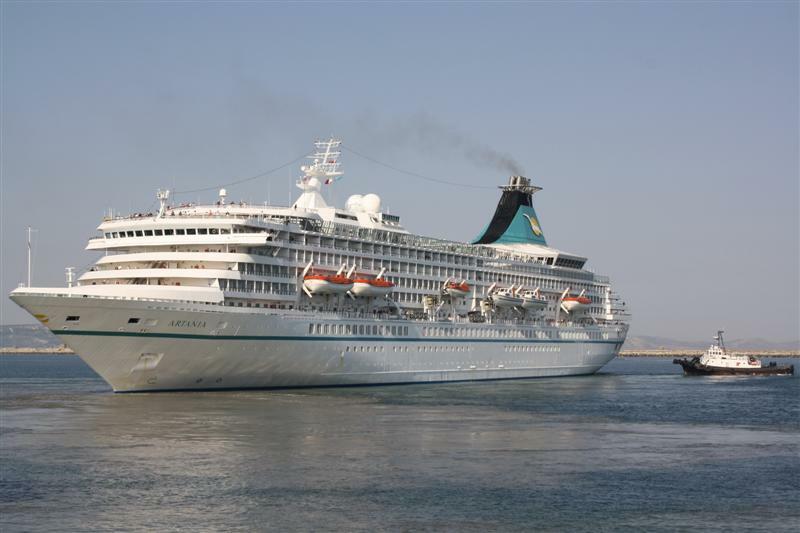 Portland UK's 2012 cruise season was the biggest to date for the commercial port. A total of nine cruise liners berthed alongside at Portland for day calls, which in terms of passenger numbers amounted to a healthy 9,000.
Seven out of the nine cruise liners were maiden calls to Portland, and were commemorated with a plaque presentation on board the ship. Ian McQuade, General Manager (Commercial), said: "We always like to commemorate a cruise ships' inaugural call to the port; It's very exciting to welcome a new call and important to us that they have a great experience."
The biggest cruise ship to visit the port in 2012 was Royal Caribbean's 'Jewel of the Seas'. With 1,980 passengers on board and weighing approximately 90,000 gross tonnes, the vessel dominated the quayside. Passengers from the ship enjoyed excursions to Stonehenge & Salisbury, Corfe Castle, Abbotsbury Swannery & Gardens, Cerne Abbas and Minterne House.
The port's focus now switches to 2013 which is set to be another record breaker; 19 cruise calls delivering around 20,000 passengers are confirmed to visit Portland between May and September. With inaugural calls being made by Aida Cruises, Transocean Tours, Voyages of Discovery and Hapag-Lloyd Cruises, Portland Port will continue to expand its growing list of customers. Ian McQuade added: '2013 is looking very exciting indeed. Alongside the first time visitors such as Aida we are also welcoming back many old friends to the port. We are delighted to feature regularly in the itineraries of such companies as Crystal Cruises, Phoenix Reisen and Saga and hope to become a regular feature in the plans of our newcomers going forward. We are seeing an increase in cruise calls year on year and we already have calls confirmed for both 2014 and 2015."