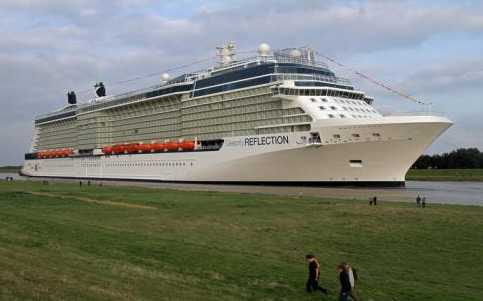 The Celebrity Reflection has left the Meyer Werft shipyard in Papenburg, Germany, and is sailing to the North Sea. The 1,047-foot long, 121-foot wide vessel crossed the Ems River in about 10 hours – an amazing feat, considering the scale of the ship and the geography of the shipyard required the Captain to steer the ship backward, assisted by tugboats fore and aft.
Preparations for the transit – known as "the conveyance" – include removing power lines and railway tracks that normally pass over the river, to allow the ship to pass through. The journey must take place when wind conditions are calm and at high tide to ensure ample depth of water in the river to prevent the possibility of the ship scraping its multi-million-dollar paintwork.
Thousands of spectators lined the river to watch and enjoy the conveyance. Traveling at less than four miles per hour, Celebrity Reflection joins four award-winning Solstice Class sister ships which have made the same complex journey prior to officially entering service. Following sea trials and the completion of finishing work while in Emshaven, The Netherlands, Celebrity Reflection will host an invitation-only preview sailing before embarking October 12 on her first cruise from Amsterdam.