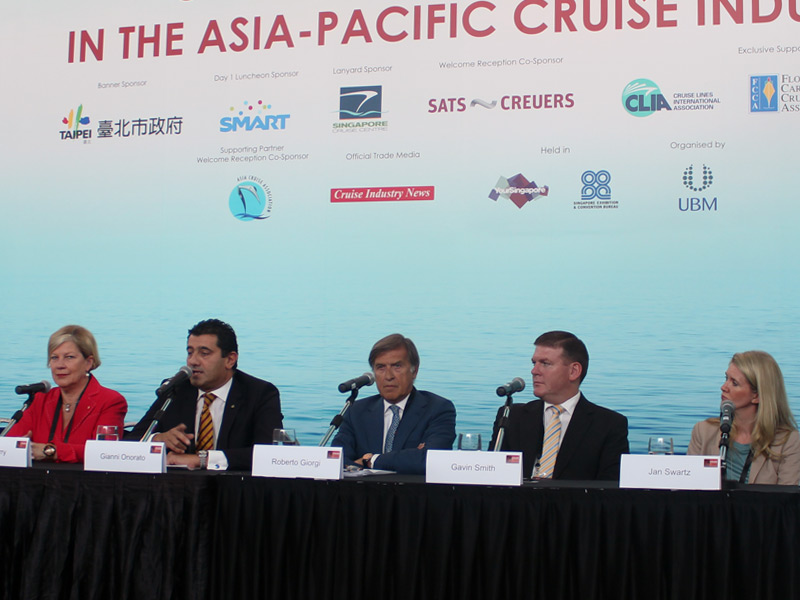 The State of the Industry panel during the Cruise Shipping Asia-Pacific conference and trade show at the Marina Bay Cruise Center in Singapore touched on a variety of topics, ranging from Asia-Pacific source potential to newbuilds and various infrastructure challenges in the region.
Christine Duffy, president and CEO of the Cruise Lines International Association, described Asia as a gateway to tomorrow's cruise marketplace, pointing to the $350 million Marina Bay Cruise Center in Singapore. She talked about the potential growth prospects in Asia-Pacific, underlining a possible 300 million cruise passengers, compared to a current 3 percent penetration rate in the United States.
However, that number might be far off, according to Roberto Giorgi, president of Monaco-based V.Ships.
"We talk about 300 million potential cruise passengers in China … in 10 years time we will still be talking about it," said Giorgi. "We need vessels that are built for the Chinese product, and better education and distribution (of cruise vacations)."
On the floor at Cruise Shipping Asia-Pacific were executives from most cruise lines, all confirming to Cruise Industry News that they were looking at various Asia expansion plans. Rumors also continue to persist there is a 100,000-ton newbuilding project underway in China.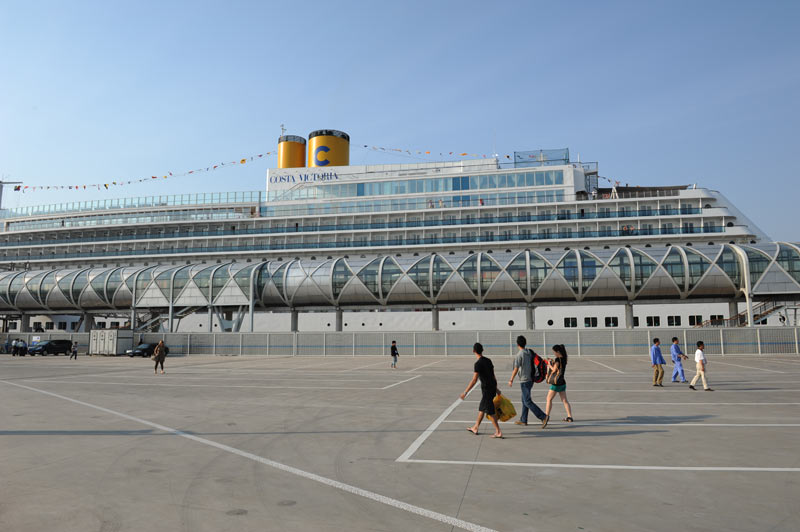 Gianni Onorato, president of Costa Croicere, noted that port infrastructure in Asia was still lacking, along with consumer education.
"The major issue here is to explain what cruising is to the customers," said Onorato. "The second challenge is how to offer destinations and itineraries that can be reached in a competitive way cost-wise. We have a number of major homeports in the region, but they need other ports of call that are able to accommodate ships. Today, this is not the case and one of the major obstacles to growth. The main homeports should assist the other ports."
Onorato noted that since 2006, Costa has invested tens of millions into China in terms of distribution and advertising. The Italian-brand has two ships in the region, having upped passenger capacity and tonnage steadily since entering the market.
"It is the customers driving the demand, we can help, but it is the customer," he added.
Furthermore, Onorato said Asia was the most expensive place in the world for fuel costs, due to the long distances between ports.
"As this market becomes profitable, there will be new ships, either coming from Europe or North America, or newbuilds," continued Onorato.
Kevin Leong, general manager of the Asia Cruise Association, said that the industry in Asia was at a road block.
"Cruise lines want to bring in ships, but there are not enough ports of call," he explained. "It is ongoing work and will take some time to make it happen. There is a sense of urgency to create more facilities."
Those facilities, Leong said, also take time to build, thus pushing deployment changes off until cruise berths are built.
And placing ships is based on a matrix of factors, said Jan Swartz, executive vice president of sales, marketing and consumer services for Princess Cruises.
She explained that ships are deployed to maximized profit contribution to the company.
"That is a function of how we estimate consumer demand from over the 70 international markets we sell in," Swartz said. "The facts we think about in deciding where we place ships and what itineraries are the most appealing are: first, how we maximize revenue, both net ticket price and onboard revenue, including shore excursions. Fuel is on our minds and a dominate cost, but also, port costs. We do a number of scenarios to evaluate where we should place our 18 ships."
Carnival Corporation recently opened an office for Princess, Cunard Line and Seabourn in Japan, and just last week announced another office opening in Singapore to support Asia-based ships. Princess will deploy the Sun Princess out of Japan in 2013 for a short season, aiming to carry some 20,000 Japanese passengers.
"We know that Asian countries, based on other industries, when they put their mind to it, they make it happen fast," said Swartz, commenting on port infrastructure.
At Royal Caribbean Cruises, Gavin Smith, managing director for Australia, said that infrastructure was holding the industry back Down Under.
"The biggest issue is the capacity of ports to accommodate vessels," Smith said. "The inadequacy of terminals and lack of ability to accommodate larger and more modern vessels is the limitation, not the number of Australians interested."
Ann Sherry, CEO of Carnival Australia, said that perhaps it was best to look at how other markets developed when talking about Asia.
Part of growing the industry in Australia, she continued, was quantifying the benefits of the industry in the region to encourage investments.
"Hotel operators and tour operators, they know when the ships are in town," Sherry commented. "Regional ports are completely changing their shopping hours when the ships are in. The economic benefits are quantifiable."
Similar to her counterparts on the panel, Sherry noted that having a great terminal in Singapore was fantastic, "but not good enough if the four other ports on the itinerary are not as welcoming."
Sherry however disagreed that it would take new tonnage to drive Asia growth, noting that Carnival Australia had built up the market with older ships, based on value and great onboard experiences.
"It's not the tonnage, it's the experience and the way we are getting the message out," Sherry stated.