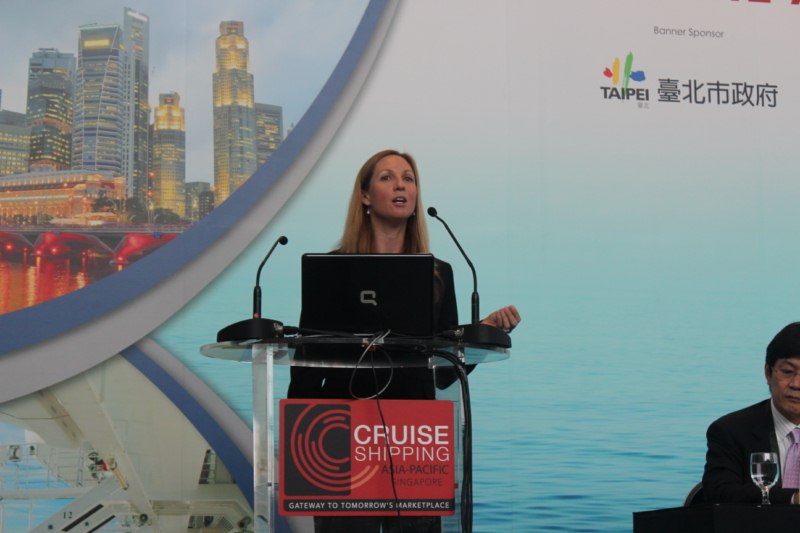 At Royal Caribbean International, customization of the product to local sourcing is key to success in the Asia-Pacific region, said Lisa Vogt, director, global brand business partner (Asia-Pacific), Royal Caribbean, speaking during the Localizing Onboard Experience and Revenue panel at the 2012 Cruise Shipping Asia-Pacific conference and trade show in Singapore
"From a staffing and language perspective we focus on a 50 percent Mandarin speaking front-of-house crew," Vogt said, underlining the Voyager of the Seas positioned in China, in addition to the Mariner of the Seas for 2013.
Those ships carry almost exclusively Chinese guests out of China, where as Singapore-based sailings are more international.
Broadcast TV has also been upgraded to add channels for the Chinese market, Vogt continued, also adding the line had to adapt onboard signage, announcements and changed the daily Cruise Compass.
On the entertainment side, the rational is marquee iconic production shows that "cross global boundaries" Vogt noted.
There is also the Dreamworks Experience, similar to that of Royal Caribbean's other ships, with parades, sail away parties, dining experiences and more.
For food and beverage, Royal Caribbean has developed comprehensive Chinese menus with a Chinese culinary consultant.
"In addition to that, we are sourcing local beverages to appeal to guest preferences," Vogt said. "Beverages are easy to shift out."
Royal Caribbean has an Asia training center in China, training Chinese crew for the line's ships.
In addition have been casino upgrades, with a private casino room available, and Royal Caribbean has doubled the number of table games onboard to appeal to local gaming preferences, said Vogt, adding that they went from 16 to 32 tables and reduced the number of slot machines.
"We added two Chinese casino hosts," she noted. "In Australia next year we are changing out some slots for more popular games in the Australian market."
Shops onboard are getting a run-through as well, with luxury brands added for the Asian market, including Prada, Hubolt, Armani and Coach.
"Voyager and Mariner represent a new era in Asia-Pacific cruising for our brand. We are showing our commitment to the region by putting these ships in the market," Vogt stated.