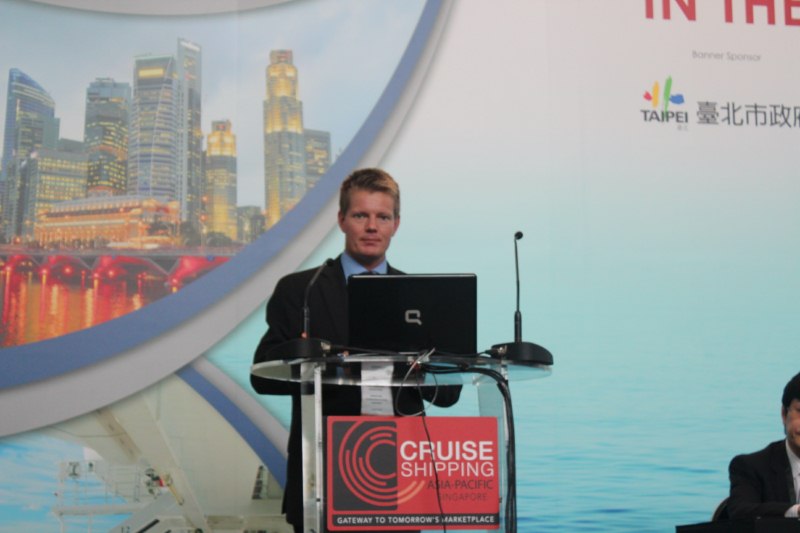 Ole-Kristian Sivertsen, senior vice president, business development and chief evangelist, Maritime Communications Partner (MCP), said during the panel that mobile devices can support onboard revenue generation while driving the passenger experience.
"More than two thirds of people say they cannot live without their device. They are addicted," said Siversten, speaking during the Localizing Onboard Experience and Revenue panel at the 2012 Cruise Shipping Asia-Pacific conference and trade show in Singapore
Mobile devices can be used to engage and connect with customers, but more importantly, can contribute to revenue.
"Smart phones are the fastest technology adoption in human history," Siversten continued, adding that onboard mobile revenue is growing quickly.
"Revenue sharing is the answer," he noted. "Once the ship leaves land, guests are in your control until the next port of call."
Thus, MCP installs a network onboard that will connect passengers to their mobile networks, getting a similar experience to shoreside while MCP operates on a revenue-share model with the cruise lines.
"Ship owners have earned more than $250 million in revenue sharing from mobile phone services," said Siversten.
Voice calling is limited, SMS activity is flat, but data usage is growing exponentially – especially among the older passengers.
One cruise line, said Siversten, has seen 600 percent data revenue growth so far in 2012, compared to 2011.
However, there is more than direct revenue.
"What you should really remember is that the smart phone is driving an enormous shift in how people communicate and connect with each other and use their devices for so many things today. Learning how to tap into that is a key thing."
Thus, cruise lines can harness SMS and digital trends such as QR codes to keep in touch with passengers, or make certain processes easier, such as QR codes to board – like what some airlines are currently utilizing.
Cruise companies can bring more value to the table, said Siversten, for example, showing virtual shore excursion tours to passengers on mobile devices coupled with up-sell initiatives.